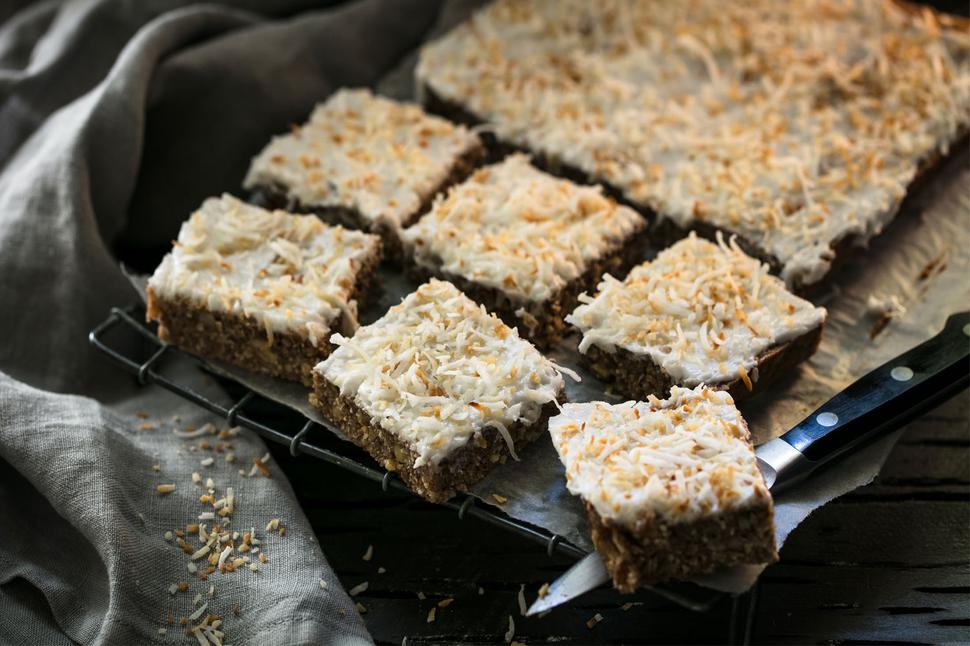 Sweet Square & Slice Recipes To Bake Your Way Through
Wildly indulgent or awesomely raw, these treats have all your cravings covered
Saturday Aug. 25, 2018
Banana Coconut Slice
For a non-bake slice, give this oat and banana number a go. It takes 10 minutes to put together before you simply cut and freeze to enjoy later. It's perfect for those 'I need a snack now' moments.
Al Brown's Mum's Ginger Crunch Recipe
This recipe is like a culinary love letter — you'll keep passing it on. The pairing of crumbly biscuit base and gingery golden syrup icing is a Kiwi classic for a reason.
Raw Almond Butter Caramel Slice
A deliciously buttery base topped with a sweet silky caramel filling makes this the ultimate sweet treat — but with a wholesome twist.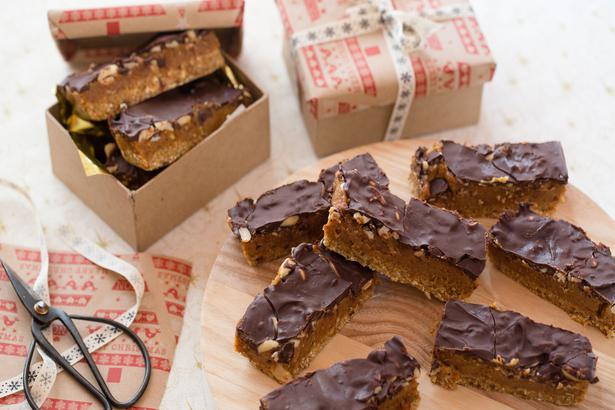 Homemade Snickers Slice
Satisfy your Snickers craving with this not-so-naughty version that relies on honey, dates and cashew nuts to recreate the classic candy bar.
Tropical Raw Slice
With lime, avocado and banana, this fragrant slice has all your tropical bases covered. Sweeten with honey or use brown rice syrup or pure maple syrup to make this treat vegan-friendly.
Chocolate Marshmallow Slice
Get a taste of nostalgia with this simple chocolate marshmallow slice. Nothing fancy, just good old-fashioned baking at its best.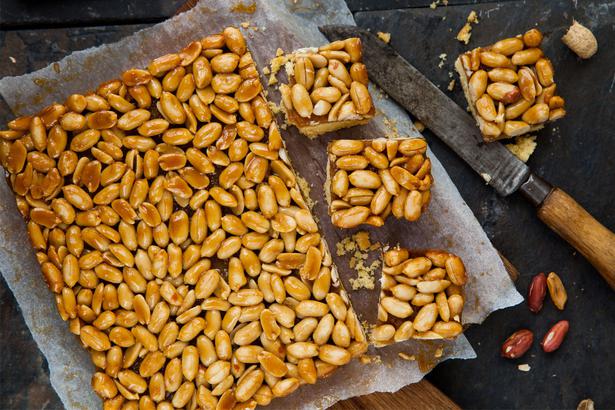 Peanut Caramel Slice
Golden syrup, brown sugar and toasted peanuts — this slice has it all going on. Serve for a deliciously sticky treat next time peanut butter just won't cut it.
Salted Chocolate & Buckwheat Slice
Psst, there's one big secret about this slice. The key to creating the rich chocolately ganache is avocado, so you can feel good rather than guilty about indulging.
Oat & Date Slice
Whether you're hungry for an afternoon tea treat, tasty lunchbox filler or breakfast on the go, this slice has you covered. The combination of nuts, oats, dried fruit and seeds is perfect for keeping you satiated.
Eleanor Ozich's Vegan Louise Cake
A healthier take on the old-fashioned Kiwi classic, this Louise slice is made of the kind of stuff you feel good about eating. It's sweet and nutty biscuit base is smothered with chia raspberry jam that's pleasantly tart, and not overly sweet.
Raw Date & Coconut Slice
Let the fridge do the work creating this simple no-bake slice. Simply throw all your ingredients in a blender, blitz and you're practically done.
Coconut Cream Fudge Slice With Prunes & Lemon Zest
This seriously tasty slice is wonderfully nourishing, full of wholesome ingredients and good fats, making it an excellent choice for a mid-afternoon pick-me-up.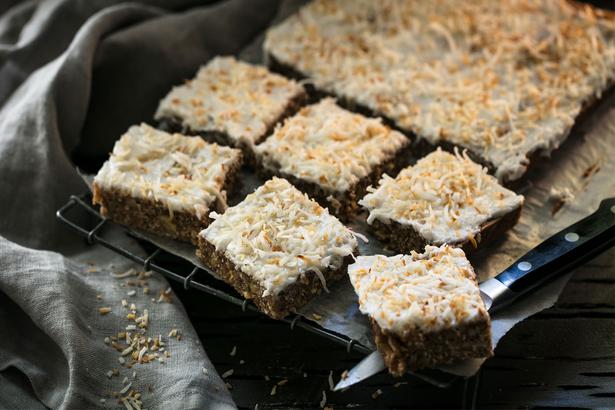 Gooey Lemon Crunch
Calling all lemon fans, this slice is for you. Tangy and delicious, eat warm with a blob of yoghurt or cool and then store for next time a citrus craving hits.
Chocolate Dog Slice
One of the easiest, most-loved sweet treats is this chocolate dog slice. It has only four ingredients and can be made in just 10 minutes.
Florentine Slice
Like the biscuit, but better. This slice goes down an absolute treat with a hot cup of tea or coffee next time you have a sweet occasion to cater for.
Share this:
More Food & Drink / Recipes