Hearty Steak & Mushroom Pie Recipe
Nothing beats a fresh pie straight out of the oven during the cold months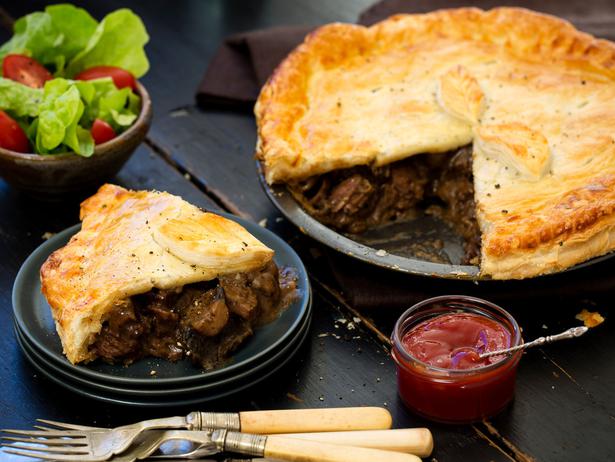 Monday July 20, 2020
STEAK AND MUSHROOM PIE
Serves 4-6
• 20g butter
• 2 Tbsp oil
• 1 onion, chopped
• 2 cloves garlic, crushed
• Seasoned flour for dusting
• 800g chuck steak, cut into 2cm pieces
• 2 cups beef stock
• ½ tsp mixed herbs
• ½ cup red wine
• 4 large portobello mushrooms, sliced
• Thickening - 1 Tbsp flour mixed with 1 Tbsp melted butter
• 1 sheet savoury short pastry
• 1 sheet puff pastry
• 1 egg for glazing
1. Heat your oven to 180C.
2. Heat half the butter and oil in a medium sized pot. Fry the onions and garlic for 5 minutes until softened.
3. Dust the meat generously with flour and shake off the excess. Heat the remaining butter and oil in a frying pan. Brown the meat in batches then add to the onions. Add a little of the stock to the pan to deglaze then pour into the pot.
4. Add the remaining stock to the meat along with the herbs, red wine and mushrooms. Cook on a low heat for 1 hour or until the meat is tender. Remove ¼ cup of the liquid and add to the thickening, combine then tip back into the pot and stir to thicken. Check the seasoning (add salt and pepper if you wish). Cool the mixture to room temperature.
5. Line a 23cm pie tin with the short pastry and trim the edges. Line with baking paper and rice and bake blind for 15-20 minutes until just cooked. Remove the paper. Fill the pastry with the meat mixture. Dampen the edges, and top with the puff pastry, pressing gently to seal. Use any extra pastry for decoration. Make a few slits in the top with a knife to release steam during baking. Brush the top with egg. Place into the oven for 35-40 minutes until the pastry is risen and golden. Remove and serve hot.
Share this:
More Food & Drink / Recipes