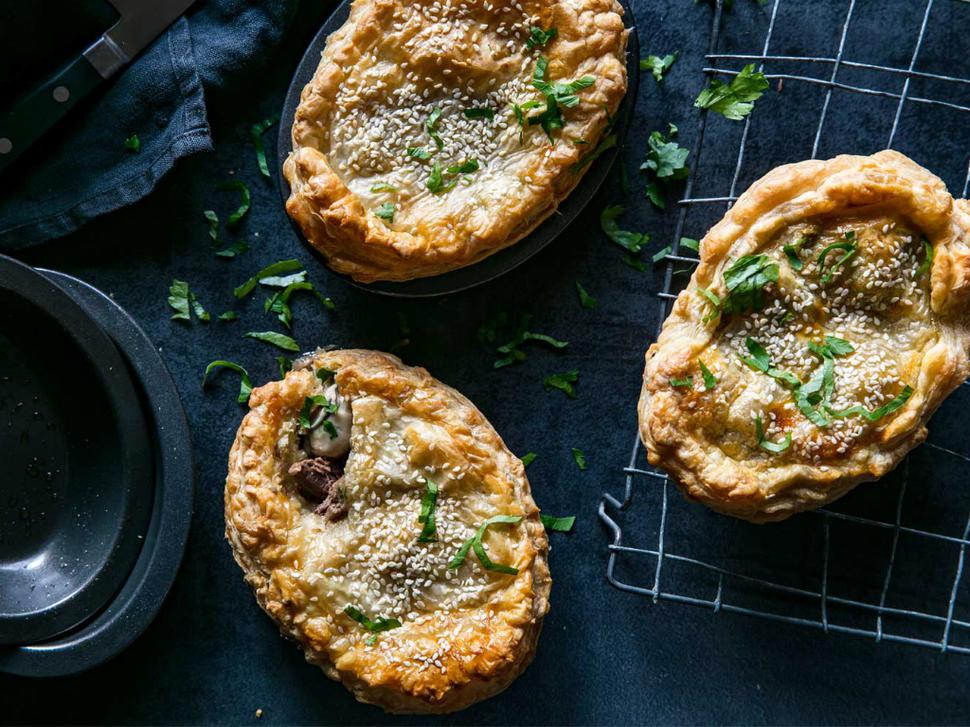 Slow-Cooked Steak & Oyster Pies
We love it when old favourites return to the table, and this classic dish is definitely one of them
Friday May 25, 2018
The key to a good pie is tender succulent meat that has been slowly cooked, absorbing the delicious flavours tossed in with it. In this pie recipe, red wine, orange and thyme make a great combination. Either make four individual pies or a large one to feed the family. I can't help but serve buttery mashed potato on the side. Let it take you back to your mum's home-cooked winter meals.
STEAK & OYSTER PIES
Makes 4
1 Tbsp oil
1 onion, chopped
2 cloves garlic, crushed
600g steak, cubed
½ cup red wine
1 cup beef stock
1 Tbsp orange zest
1 Tbsp each freshly chopped thyme and oregano
½ tsp salt and pepper
2 Tbsp flour
20g butter, melted
400g puff pastry
1 dozen oysters
1 egg, whisked
Sesame seeds to sprinkle
Chopped parsley to garnish
1. Preheat oven to 160C.
2. Heat the oil in a frying pan to a medium heat. Cook the onions and garlic until softened. Remove from the pan and place them in an ovenproof casserole dish. Brown the meat in the pan in batches, then add to the onions. Add the wine, stock, zest, herbs, salt and pepper. Cover and place into the oven for 1½ hours.
3. Stir the flour into the melted butter, then whisk into the beef and return to the oven for 30 minutes or until tender. Remove from the oven and cool to room temperature. Check the seasoning. Adjust oven to 180C.
4. Roll the pastry on a lightly floured bench to 3mm thick. Line the base and sides of four individual pie dishes. Spoon in the beef and pop three oysters into each pie. Cover with the remaining pastry, pressing the edges together with a little water.
5. Poke three holes in the top to let any steam out. Brush with egg wash and sprinkle over some sesame seeds.
6. Bake for 25 minutes until the pastry is risen, crisp and golden.
7. Serve hot with a sprinkle of parsley.
Share this:
More Food & Drink / Recipes