Steak Sandwich Recipe
The ultimate steak sandwich by Amanda Laird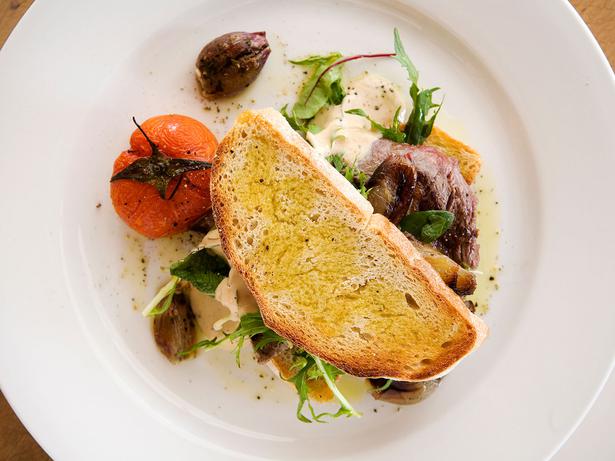 Saturday Nov. 13, 2010
STEAK SANDWICH
Makes 4
2 onions 
½ Tbsp balsamic 
1 tsp brown sugar 
1 sprig rosemary 
½ Tbsp olive oil 
8 slices of sourdough 
4 sirloin steaks, cut 1 cm thick 
Salad greens 
Tomato slices
Bearnaise 
200g butter 
¼ cup tarragon vinegar 
1 shallot, finely chopped 
1 Tbsp fresh tarragon, finely chopped plus another Tbsp to add at the end 
Salt and white pepper 
2 Tbsp water 
3 egg yolks 
1 Tbsp lemon juice, approximately
1. Peel, halve and slice the onions. Heat 1 Tbs olive oil in a saucepan, add the onions, balsamic, brown sugar and rosemary. Stir over a medium heat to coat then cover and let cook while stirring occasionally, for 20 minutes or until soft and caramelised.
2. To make the bearnaise; Melt the butter gently and allow to cool slightly. Put the vinegar, shallot and fresh tarragon into a small saucepan with a pinch of white pepper and the water. Reduce until 1 1/2 tablespoons of liquid remain. Transfer to a bowl that fits over a saucepan half filled with hot water.
3. Add egg yolks and whisk over the heat until thick. Whisk in a little butter at a time. When you have a creamy sauce, add the extra tarragon and lemon juice to taste. Season with salt and more white pepper if desired.
4. Brush the slices of bread lightly with oil and grill until lightly toasted. Season the steak and grill for one minute on each side. 

5. Assemble the sandwiches by putting one slice of toasted bread on each plate. Top with greens, tomato slices, steak and then the onions. Spoon over the bearnaise and top with the second slice of grilled bread. 
Share this: