Steamed Puddings Recipe with Tamarillo and Ginger
Try Angela Casley's simple and delicious steamed puddings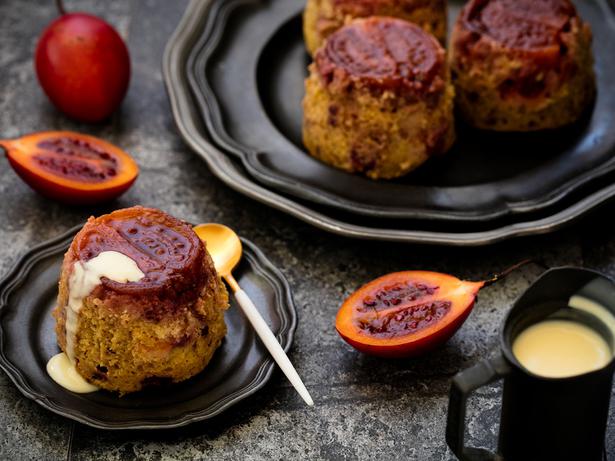 Wednesday June 1, 2016
STEAMED PUDDINGS WITH TAMARILLO AND GINGER
Makes 6
• 3 Tbsp demerara sugar
• 5 tamarillos, peeled and halved lengthways
• 70g butter, softened
• ½ cup brown sugar
• 2 eggs
• ¼ tsp almond essence
• 1 ½ cup self-rising flour
• 1 tsp cinnamon
• ½ tsp ginger
• ½ cup milk
• Custard or ice cream to serve
1. Preheat an oven to 170C. Grease and line the base of 6 x 200ml moulds or cups.
2. Into the base of each mould sprinkle ½ tablespoon sugar. Place half a tamarillo cut side down onto the sugar. Cut the last two tamarillos into pieces to add to the cake mixture.
3. Cream the butter and sugar until well combined. Add the eggs and almond essence, beating again. Fold through the flour, cinnamon, ginger and milk, combining well. Pour the mixture into the six moulds. Smooth the tops.
4. Place the moulds into a deep baking dish. Cover with a piece of damp baking paper. Add boiling water to the baking dish to fill half way up the moulds. Place into the oven for 40 minutes until a skewer comes out almost clean.
5. Let the pudding set for 15 minutes then unmould. Serve warm with custard or ice cream.
Share this: