Miso-Glazed Eggplant On Red Lentils
Eggplant gets a makeover with an irresistibly sticky sauce and a bed of warm legumes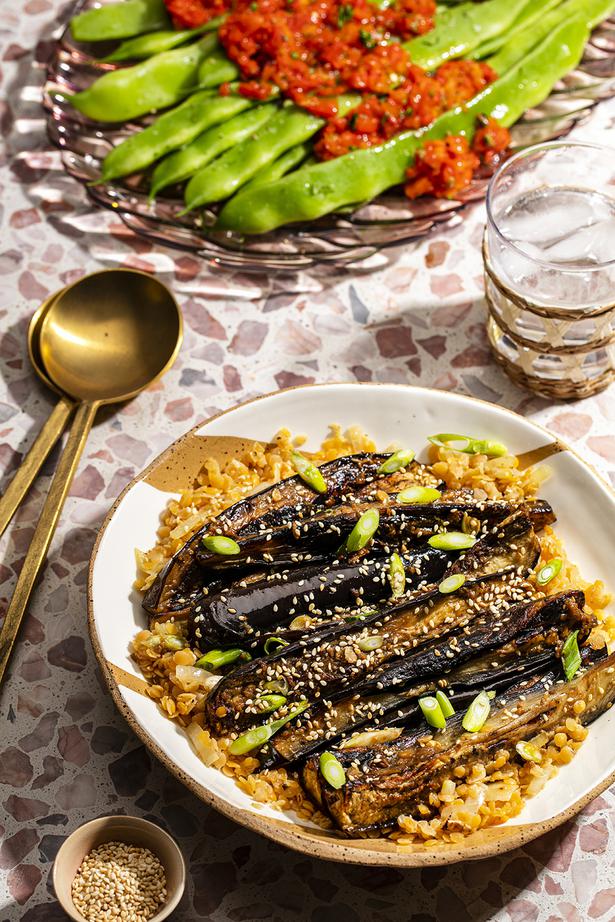 Wednesday Feb. 2, 2022
This is one of my favourite ways to eat eggplant. The interior is cooked to soft perfection, and the coating deliciously sticky.
MISO-GLAZED EGGPLANT ON RED LENTILS RECIPE
Serves 6
1 cup red lentils
Olive oil, for cooking
½ onion, chopped
2 cloves garlic, crushed
1 Tbsp grated ginger
2 eggplant
Sticky Miso
2 Tbsp miso paste
2 Tbsp honey
¼ cup soy sauce
2 Tbsp water
1 Tbsp sesame oil
1 Tbsp grated ginger
2 spring onions, chopped
1 Tbsp toasted sesame seeds
1. Place the lentils into a pot of salted boiling water for 15 minutes. Drain. Heat 1 Tbsp of olive oil in a frying pan. Cook the onion, garlic and ginger until softened. Add the lentils, cooking through. Set aside.
2. Cut the eggplant lengthways in half, then cut lengthways again, into 4 wedges. Drizzle enough oil to coat the wedges. Heat a barbecue grill to a medium heat and brown the eggplant. Place into an ovenproof dish.
3. For the sticky miso, in a bowl, place the miso, honey, soy, water, sesame oil and ginger, stirring until smooth. Pour over the eggplant. Set aside until ready to cook.
4. Preheat an oven to 180C. Sprinkle the spring onion and half the sesame seeds over the top, reserving the remainder for garnish. Cook the eggplant for 25 minutes until sticky and golden.
5. Warm the lentils through and place onto a serving platter. Top with the eggplant, extra sesame seeds and any remaining sauce.
This recipe was originally published in Viva Magazine – Volume Six.
Share this: