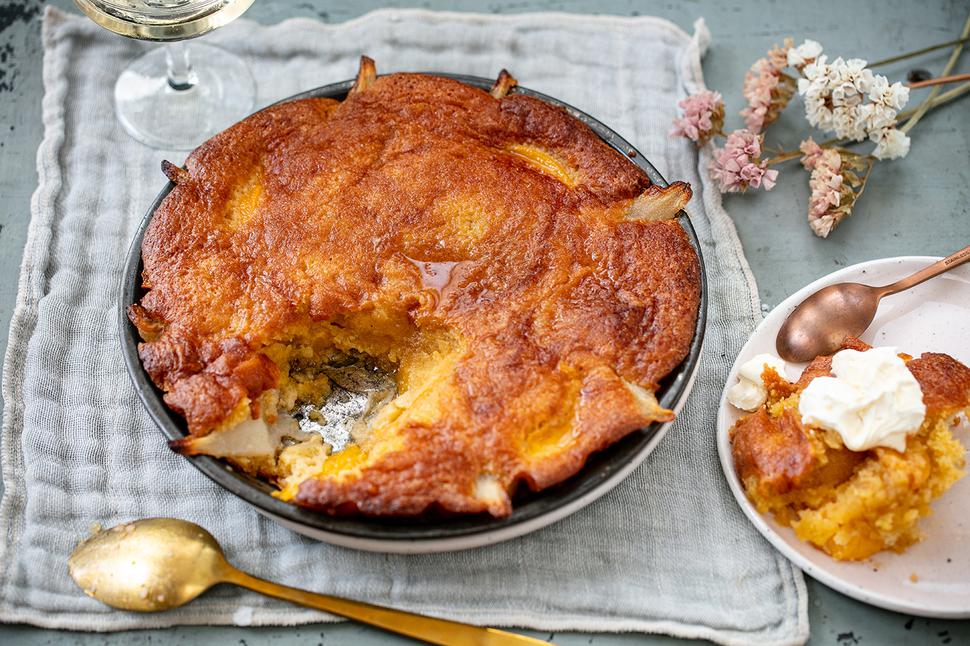 A Luxurious, Sticky Pear & Peach Pudding
You'll want to return to this lush autumn dessert recipe
Tuesday May 10, 2022
I like to serve this with custard or creme fraiche and, if there's any left over, it's just as delicious reheated the next day.
STICKY PEAR AND PEACH PUDDING RECIPE
Serves 6
½ cup brown sugar
¼ cup boiling water
410g tinned peaches, drained
2 ripe pears, peeled and quartered
200g butter, softened
½ cup caster sugar
4 eggs
1 tsp vanilla
1 Tbsp grated fresh ginger
½ tsp cinnamon
¾ cup self-rising flour
1 tsp baking powder
To serve, creme fraiche or lightly whipped cream
1. Preheat an oven to 180C. Grease the base of an ovenproof pudding dish.
2. Place the brown sugar and ¼ cup of water in a small pot and bring to the boil for 2 minutes. Remove and toss the fruit in the liquid. Set aside.
3. Beat the butter and sugar until light and creamy. Add the eggs one at a time, then the vanilla and grated ginger. Fold through the cinnamon, flour and baking powder.
4. Using a slotted spoon remove the fruit from the sugar mixture and place into the base of your pudding dish. Reserve the liquid. Spoon over the batter. Bake for 35-40 minutes until soft and spongey. Remove and cool for 10 minutes.
5. Spoon over the reserved brown sugar liquid.
6. Serve with a good dollop of creme fraiche or lightly whipped cream.
Share this: