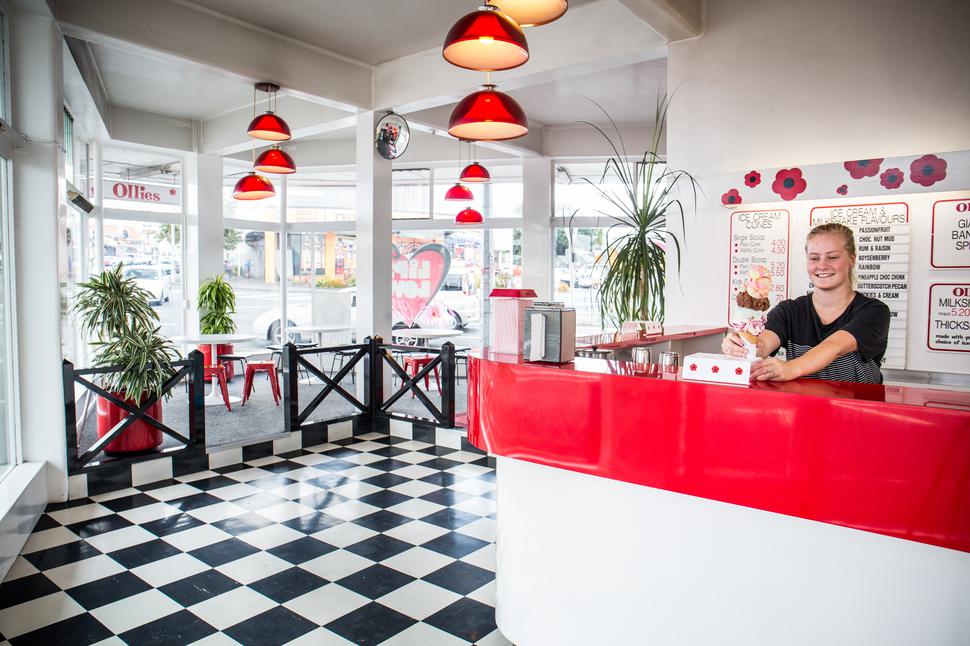 Throwback Thursday: Ollies Ice Cream Parlour
In a fickle food industry, it's comforting that gems like Ollies remain
Thursday March 5, 2015
Ollies Ice Cream parlour, "scooping since 1973", has served generations of Aucklanders. We chatted to "Mr Ollie", owner Colin Haines, two days before the diner's 42nd birthday — and a day after his ninth grandchild was born.
On employees ...
"So many people who have worked [here], have actually had their children come and work. I laugh at one girl who worked in the 80s and she had five daughters. We're now up to the fourth daughter working, with one more to go."
On opening ...
"We came back from Canada and I was absolutely stunned to see Kentucky Fried Chicken was right there [opposite Ollie's]. As I'd done a bit of work in fast food, I applied for a job and worked with them for a while. We came into this shop, which was called the Royal Oak Drapery Shop, and found out that it was for sale. So we bought a drapery business and decided that we would be the dessert shop for KFC — that's how the whole thing started."
On longevity ...
"It started off with a hiss and a roar ... way better than we ever could have hoped. And it's actually remained that way. We've got so many fast-food businesses now, that to still be here is wonderful. The reason why people, I think, love Ollies, is the fact that we're still here. Although everything's changed, it still is the same as when we opened."
On competition ...
"When we opened Ollies, there were so many icecream parlours in Auckland that we formed an association of icecream parlours so we could go to the bigger companies and say, 'Can you produce an icecream exclusively for us?'. They're all gone, but we're still here."
On serving customers ...
"I love it. It's just a social thing, because there's so many people. I thought I'd never have a regular customer but so many people are regular; absolute icecream lovers. People come from all over the place just to buy a simple icecream cone."
On balance ...
"When we opened I worked until I went totally crazy. You actually become a zombie if you work too hard. You have to have a life."
On favourite flavours ...
"Some flavours stay fabulous. I've always been a Caramel Fudge lover, but the biggest icecream we ever had was Cookies and Cream. When that was introduced it was amazing how much we sold. We now have 30 flavours. I think we had about 12 when we opened."
On the future ...
"I'm just going to stay. It's fun, and we have lovely people that work [here]. I get asked occasionally, 'Would I be interested in selling?', but no, I'm such a young fellow still. I think it's got better and better as the years have gone by."


• Ollies Ice Cream Parlour, Royal Oak Roundabout, 802 Manukau Rd, Auckland.
Share this:
More Food & Drink / The Latest