Strawberry Layer Cake Recipe
Try Angela Casley's spectacular dessert to impress your family and friends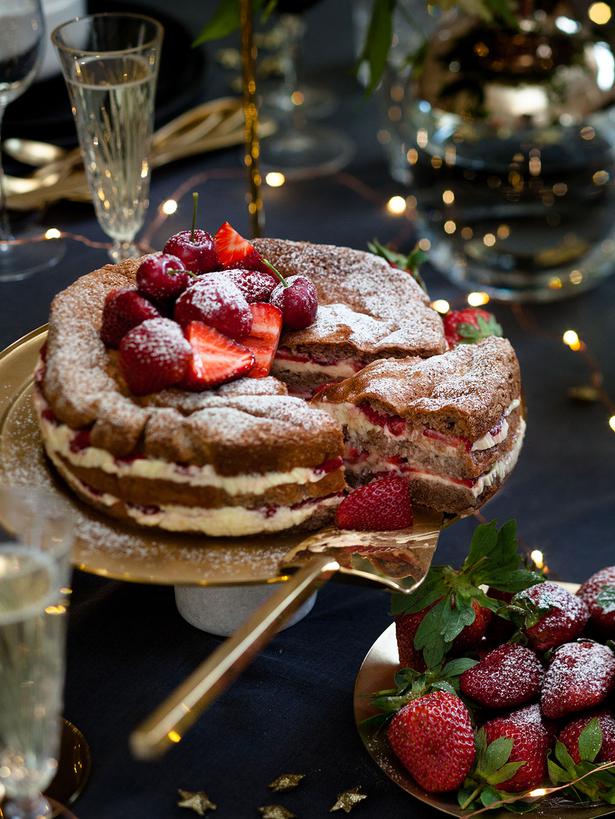 Wednesday Dec. 2, 2015
STRAWBERRY LAYER CAKE RECIPE
Serves 10
Cake
• 3 eggs
• 100g caster sugar
• 120g ground almonds
• 3 egg whites
• ¼ tsp cream of tartar
• 50g gluten free flour
• 20g melted butter
Filling
• 200ml cream
• 250g cream cheese
• zest of 1 lemon
• 2 Tbsp lemon juice
• 50g caster sugar
• 2 punnets strawberries, hulled and sliced
• Icing sugar to dust
1. Preheat oven to 170C. Grease and line a 23cm tin with baking paper.
2. Beat the eggs and half the sugar until light and fluffy. Then add the ground almonds.
3. Beat the egg whites until stiff. Add the cream of tartar and the remaining sugar in two batches. Fold egg white mixture into almond mixture along with the flour and melted butter. Place into the middle of the oven for 35 minutes until lightly golden. Allow to cool completely.
4. For the filling, beat the cream, cream cheese, zest and sugar until smooth.
5. Remove cake from tin and split horizontally into three even pieces. Place the base of the cake on a plate and spread on half the cream mixture. Top with sliced strawberries. Place on the middle piece of cake and repeat. Place on the top layer. Cover with plastic wrap and refrigerate overnight.
6. Before serving, top with the remaining strawberries and dust liberally with icing sugar.
Share this:
More Food & Drink / Recipes