Strawberry Tart
A simple summer tart to showcase one of our favourite berries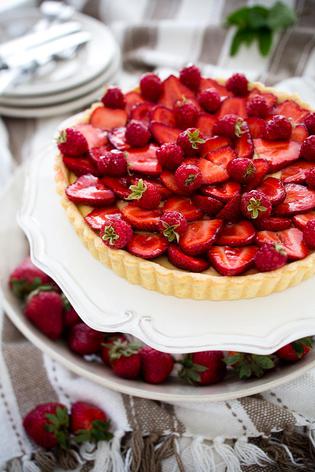 STRAWBERRY TART
Serves 8
200g sweet short crust pastry
Custard
5 egg yolks
¾ cup caster sugar
1 tsp vanilla 
3 Tbsp cornflour
1½ cup milk, hot
1 Tbsp butter
To serve
1 punnet strawberries,
2 Tbsp strawberry jam
Cream
1. Heat an oven to 180C.
2. Line a 22cm tart tin with pastry and bake blind for 15 minutes, or until cooked but not browned.
3. In a bowl beat the egg yolks, sugar and vanilla until light and creamy. Add the cornflour and mix through.
4. In a pot, heat the milk until it reaches boiling point, then slowly add to the egg mixture beating until all combined. Place it back into a clean pot.
5. Heat the custard, stirring continuously until it reaches boiling point and starts to thicken, about 5-7 minutes. You may think it is starting to curdle, but just stir vigorously.
6. Remove from the heat, stir through the butter and strain into a bowl to cool. Place a piece of plastic wrap over it to stop a skin forming. When cold, spoon the custard into your pastry case.
7. Arrange strawberries on top. Melt jam and brush the top of the tart. Refrigerate until ready to eat, then serve with cream.
Share this:
More Food & Drink / Recipes