Walnut and Raisin Stuffed Turkey Wrapped in Bacon Recipe
Try this Christmas turkey with tasty stuffing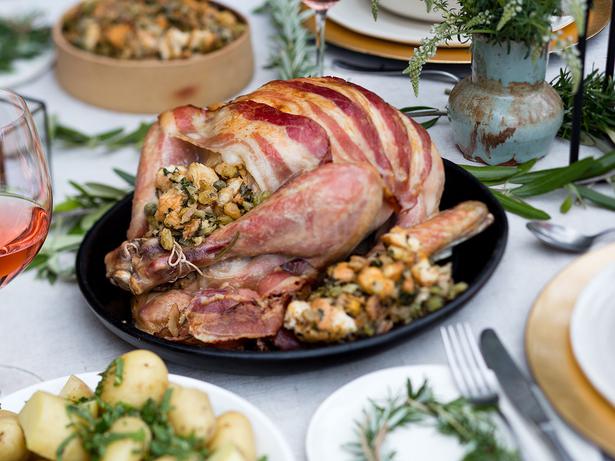 Friday Dec. 9, 2016
Turkey is all about fresh clean flavours. For the stuffing, make it well in advance. Prepare the turkey itself on Christmas morning, so it's ready to go in the oven later. Once cooked, you can leave it to sit for 30 minutes before serving. Cover it in tinfoil and a tea towel to keep it warm and moist.
WALNUT AND RAISIN STUFFED TURKEY WRAPPED IN BACON RECIPE
Serves 8
Stuffing
20g butter
1 Tbsp oil
1 onion, chopped
4 cloves garlic, crushed
2 sticks celery, chopped
½ loaf French bread cut in 1cm cubes
½ cup chopped parsley
¼ cup chopped thyme
1 tso dried tarragon
Zest and juice of 1 lemon
2 eggs
1 tsp salt
Freshly ground pepper
½ cup golden raisins
½ cup chopped walnuts
2 Tbsp capers
1 x 3.5 kg turkey
1 lemon, cut in half
8 rashers streaky bacon
1. In a large frying pan melt the butter with the oil. Add the onion, garlic and celery and cook for 5 minutes until completely softened, but not brown. Place into a large mixing bowl.
2. Add the bread, parsley, thyme, tarragon, lemon, eggs, salt, pepper, raisins, walnuts and capers. Combine well with a wooden spoon or hands.
3. Wash and pat dry the turkey inside and out. Place the cut lemon inside the cavity. Fill the remainder with stuffing and also the neck, folding the skin under. Place the remaining stuffing into a greased baking dish. Tie the legs with string. Season the outside of the bird, then cover with bacon. Place into a large baking dish lined with paper. (All of this can be done the day before.)
4. Preheat oven to 170C. Remove the turkey from the fridge 1 hour before cooking. Place 2 cups of water in the base of the pan. Cover tightly with tinfoil and bake for 1½ hours. Remove the tinfoil for the remaining hour to allow the turkey to brown. Let it sit for at least 10 minutes before serving.
Share this: