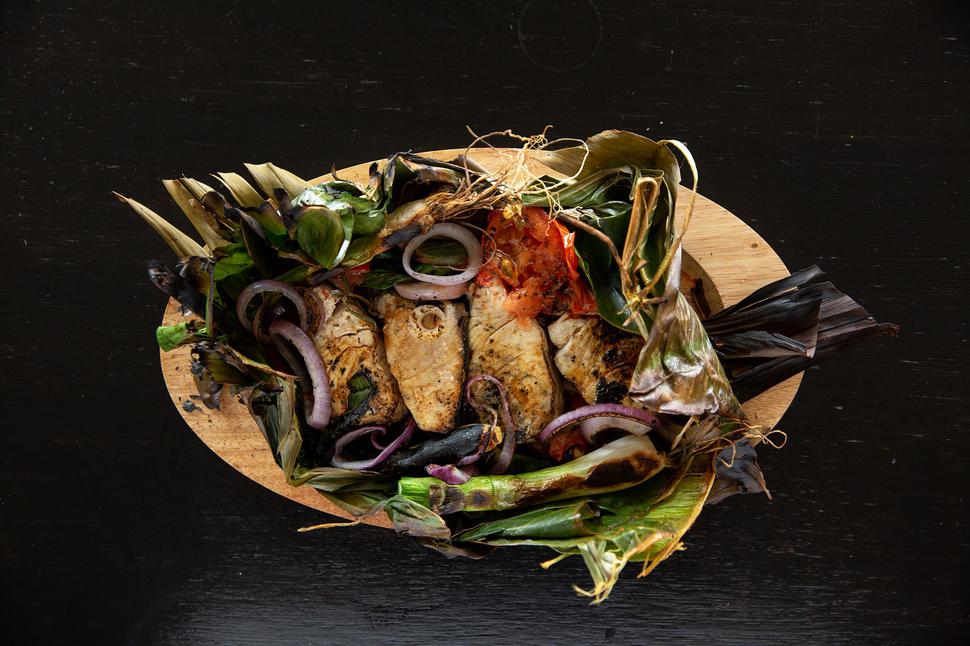 Filipino Sugba Grilled Fish In Banana Leaf
Nanam's chef and co-owner Jessabel Granada shares a favourite Filipino recipe
Wednesday March 11, 2020
Jessabel Granada from Nanam restaurant in Auckland credits her dad Armel with this sugba fish recipe. Fish is marinated and stuffed with tomatoes, red onion, fermented black beans and spring onion before being wrapped in banana leaves and placed in the coals of a fire to cook.
FILIPINO SUGBA GRILLED FISH RECIPE
Serves 2
2 cloves garlic (bawang), finely chopped
2 Tbsp fish sauce (patis)
2 Tbsp rice flour, roasted
4 Tbsp lemon juice or calamasi juice
300g snapper fillet or any fresh fish of the day (skin on is better)
100g red onion
2 spring onions with roots attached
25g crushed ginger
1 whole large red Curious Cropper tomato or 2 regular tomatoes
2 Tbsp pork lard (optional) or olive oil
Salted black beans (tausi), crushed (Temple brand sells salted black beans)
3 banana leaves, around 30 inches each
Lemon or lime, steamed rice, to serve
1. Combine the garlic, fish sauce, rice flour and lemon juice together in a bowl and rub it onto both sides of the fish.
2. While the fish marinates, barbecue (over charcoal if possible) or fry the onion, spring onion, ginger and tomato until charred and aromatic. Transfer to a board and roughly chop or slice it when cold.
3. Lightly grill both surfaces of the banana leaf. It will change colour and get slightly shiny and pliable, making it easier to work with.
4. Lay 3 banana leaves together, slightly overlapping, and put half the tomato and tausi at the bottom. Sit the fish on top and add the other half of the tomato and tausi on top.
5. Sprinkle a bit of salt and pepper as desired and drizzle over pork lard or olive oil. 
6. Fold banana leaf from left to right securing it with bamboo skewers or twine, like you would if trussing meat.
7. If using coal cook the fish parcel on low to medium heat depending on the fish size. This snapper will take 15-20 minutes to cook, rotating it every 5 minutes. If you don't have a coal barbecue you can put it in the oven at 200C for about 10 to 15 minutes.
8. Garnish with herbs of your choice, slices of lime or lemon and steamed rice on the side. I like to have mine with a bit of soy sauce and salted calamansi zest.
Share this:
More Food & Drink / Recipes