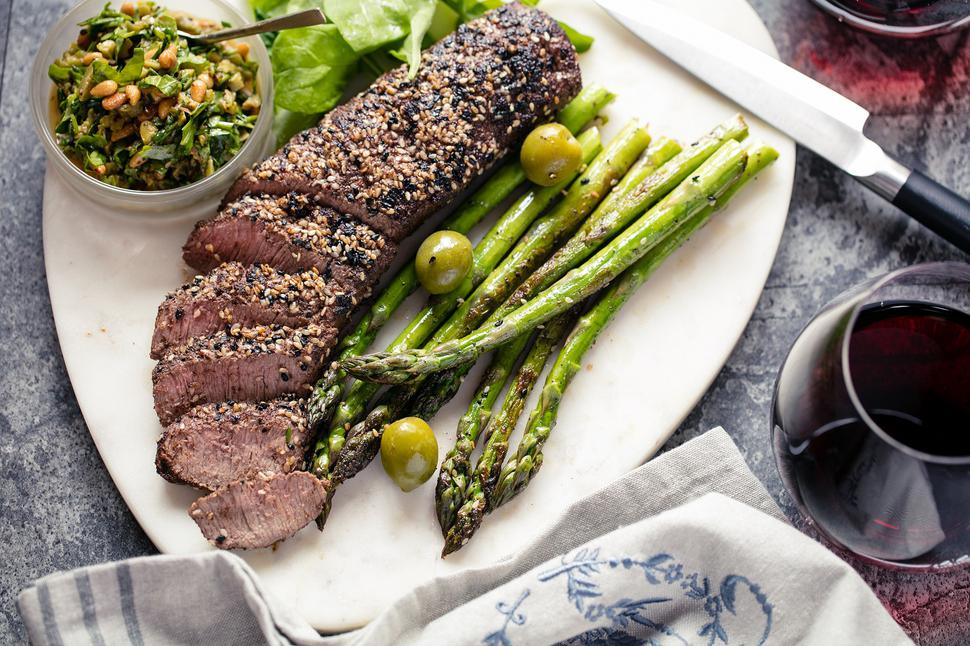 Sumac Lamb Loins With Olive & Herb Salsa
What better excuse to fire up the barbecue than this tasty sumac-spiced lamb?
Friday Nov. 9, 2018
A loin of lamb is one of my favourite cuts, with absolutely no waste. Bring it to room temperature before cooking quickly in a frying pan or, even better, on the barbecue. This is a versatile cut, served here with char-grilled vegetables — or try the lamb sliced and tossed through a salad. It is even delicious in crunchy bread with a dollop of aioli and handful of rocket.
SUMAC LAMB LOINS WITH OLIVE & HERB SALSA RECIPE
Serves 4
Sumac Lamb Loins
1 Tbsp sumac
1 tsp each ground cumin and coriander
1 Tbsp black and white sesame seeds
1/2 tsp each salt and freshly ground pepper
2 lamb loins
2 Tbsp olive oil
Salsa
6 large green olives, stones removed
1/4 cup chopped coriander
1 tsp chopped capers
2 Tbsp lemon juice
Green vegetables to serve
1. Combine the sumac, cumin, sesame seeds, coriander, salt and pepper in a small bowl. Spread on a plate. Rub the loins all over with oil, then roll in the spices. Set aside while you make the salsa.
2. Chop the olives roughly. In a bowl combine the with the coriander, capers and lemon juice.
3. Heat a frying pan to a medium heat and fry the lamb for 3-4 minutes each side or until cooked to your liking. Leave to rest for a further 5 minutes, then slice thinly.
4. Serve with salsa and char-grilled greens.
Share this:
More Food & Drink / Recipes