Summer Quiche Recipe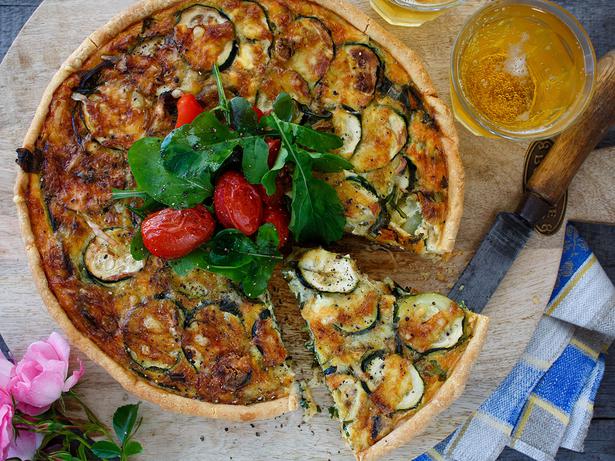 Friday Dec. 19, 2014
SUMMER QUICHE
Serves 6-8
• 400g short crust pastry
• 2 spring onions, sliced thinly
• 1 cup rocket
• 3 medium-size courgettes, sliced thinly
• 100g feta, crumbled
• 5 eggs
• 1 cup milk or cream
• ¼ cup chopped parsley
• ½ tsp salt and freshly ground pepper
• ½ cup tasty cheese
• 2 Tbsp olive oil
• 200g cherry tomatoes
• 1 handful rocket leaves
1. Set oven to 180C.
2. Roll out the pastry on a lightly floured board. Line a 22cm quiche tin with pastry and cut off the excess around the edges. Refrigerate for 20 minutes. Line the pastry with baking paper and rice. Bake blind for 20 minutes.
3. In the base of the cooked pastry arrange the spring onions, rocket and courgettes. Sprinkle the feta over them.
4. Whisk the eggs, milk, parsley, salt and pepper. Pour the mixture over the courgettes carefully and sprinkle with cheese.
5. Bake in the oven for 30-35 minutes or until set. Remove and let the quiche rest for 20 minutes before serving.
6. Put the tomatoes and oil in a small ovenproof dish. Season with salt and pepper. Bake in the oven for 10-15 minutes until softened and juicy.
7. Serve the quiche warm, topped with the roasted tomatoes and rocket.
Share this:
More Food & Drink / Recipes