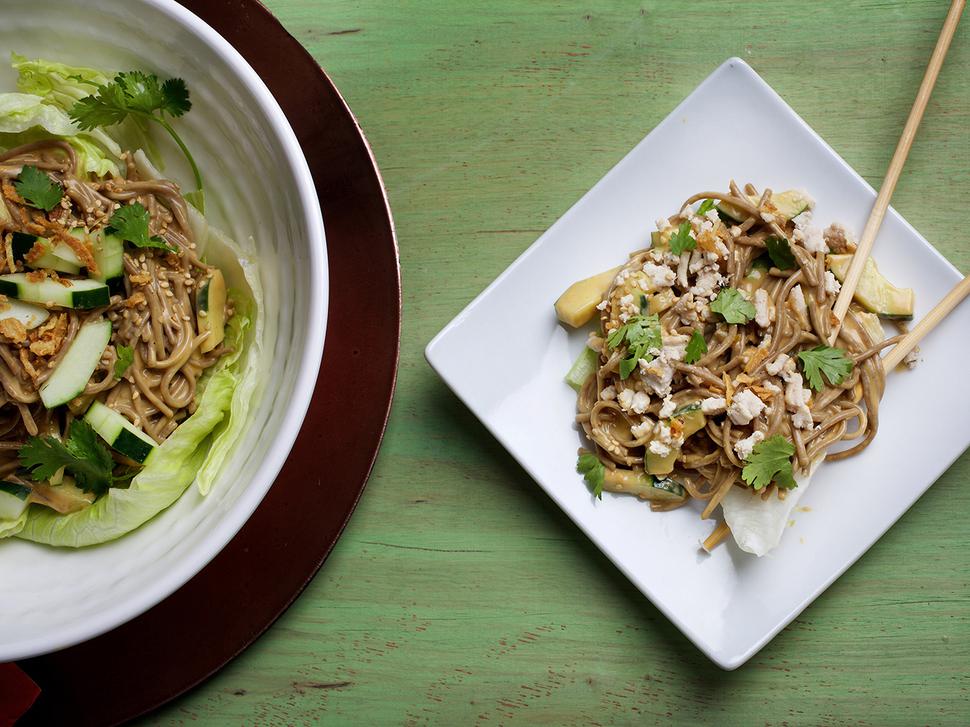 Summer Vacation Soba Noodle Salad
A go-to salad for the beach delivering crunchy and creamy textures with plenty of Asian flavours
Sunday Jan. 14, 2018
You're looking at one of the dishes I make in the summer on my beach vacation. In fact, I might be eating a mess of it right this minute, as I am Out of Office, in Microsoft Outlook-speak. I have been known to nosh on this noodle salad for breakfast, being of the cold-spaghetti camp, and for lunch I might top it with leftover grilled proteins.
Dried soba noodles are more widely available than they used to be, but I've gotten in the habit of stashing a few packs in my luggage; the other few Asian ingredients are already in the rental house pantry.
The salad has a just-right blend of cool crunch in the cucumber and fresh coriander; creamy avocado and peanut butter; and salty-tangy soy, Sriracha and lime juice. I tend to double the amount of sprinkled sesame seeds originally called for in the original recipe, which comes from Jonathan Bardzik, a Washington-based cook and blogger with a couple of cookbooks and lots of farmers market appearances to his name.
ASIAN PEANUT NOODLE SALAD
Serves 4 
Whether you serve it at room temperature or chilled, this dish offers a nice blend of mild crunch, nutty-tasting noodles and a quick no-cook dressing. Depending on how you like your salad dressed, you may have a little of the peanut butter dressing left over; it can be refrigerated in an airtight container for up to 5 days.
1 cucumber
1 ripe avocado (optional)
2 spring onions
225g dried soba noodles (100 per cent buckwheat)
¼ cup creamy peanut butter (or well-blended tahini)
¼ cup warm water
2 Tbsp low-sodium soy sauce
2 Tbsp toasted sesame oil
3 Tbsp plain rice vinegar
Sriracha hot sauce, to taste
1 lime
Coriander sprigs, for garnish
3 Tbsp toasted sesame seeds, for garnish
1. Bring a pot of water to a boil over high heat.
2. Meanwhile, peel the cucumber, if you like. Cut it in half lengthwise, then into ¼-inch half-moons. If using, cut the avocado in half and discard the pit and the skin of one half (reserving the other half for another use); cut the flesh into ¼-inch slices or bite-size chunks. Trim the spring onion, then cut the white and green parts into very thin slices.
3. Add the soba noodles to the boiling water; cook for a few minutes shy of the package directions, so the texture is al dente; drain, rinse well and drain again, then transfer to a mixing bowl.
4. Whisk together the peanut butter and warm water in a tall liquid measuring cup until well blended. Pour in the soy sauce, toasted sesame oil and vinegar and a squirt or two of Sriracha (to taste), whisking to form a fairly smooth dressing. Taste, then squeeze in 1-2 tablespoons of lime juice (to taste).
5. Pour two-thirds of the dressing over the noodles in the bowl; use tongs to toss and coat evenly. Add the spring onion and toss to incorporate. Add some or all of the remaining dressing, as you like.
6. Transfer to a serving bowl. Top with the cucumbers; the avocado, if using; some coriander sprigs; and sesame seeds.
This recipe has been adapted from Simple Summer: A Recipe for Cooking and Entertaining With Ease by Jonathan Bardzik (Tarnow Entertainment, 2013)
— The Washington Post
Share this:
More Food & Drink / Dinner