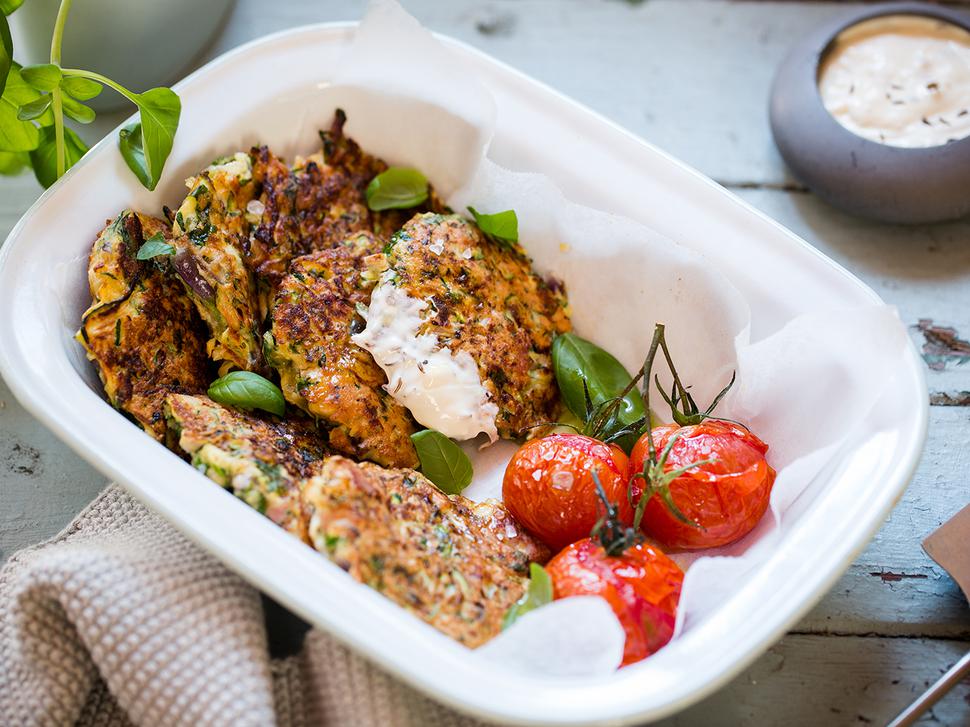 Sundried Tomato & Basil Fritters
These tasty fritters make a simple fresh meal served with some sliced ciabatta
Friday Jan. 19, 2018
Fritters have been a regular at our table this summer. Cook them on the barbecue hotplate when there is a crowd, it's easier than the frying pan. They also make a great option for vegetarians. Try adding some corn sliced from a fresh corn cob or any other fresh vegetables. I have served them here with roasted vine tomatoes. They make a simple fresh meal served with some sliced ciabatta.
SUNDRIED TOMATO & BASIL FRITTERS
Makes 12
3 courgettes, grated
½ red onion, chopped finely
2 cloves garlic, crushed
¼ cup chopped semi-dried tomatoes
½ cup chopped basil
¼ cup chopped fresh oregano
2 tsp lemon zest
1 cup grated parmesan
¼ cup self-raising flour
3 eggs
Salt and freshly ground pepper
100g chopped ham (optional)
2 Tbsp oil for cooking

Sauce
2 Tbsp tahini
½ cup Greek yoghurt
1 Tbsp lemon juice
1. Place the grated courgettes into a clean tea towel and squeeze out the juice.
2. Into a large bowl place the courgettes, onion, garlic, tomatoes, basil, oregano, zest, parmesan, flour, eggs, salt, pepper and ham if using. Combine well.
3. Heat a little oil in a frying pan. Place heaped tablespoons of mixture into the pan. Cook for 3 or 4 minutes each side until cooked through.
4. In a small bowl combine the tahini, yoghurt and lemon juice.
5. Serve warm with yoghurt sauce.
Share this: