5 Sunny Spots to Have A Drink
Summer is officially here and that means lazy afternoons spent enjoying a tipple in the sunshine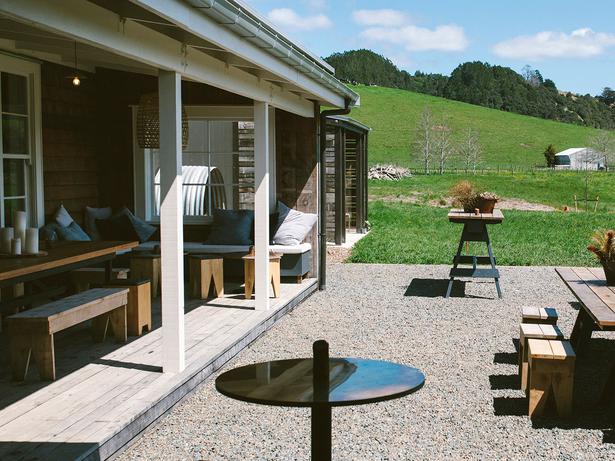 Thursday Dec. 8, 2016
1. Sawmill Brewery and Smoko Room
Just north of Matakana are the slick digs of the Sawmill Brewery (pictured), a working brewery with an excellent restaurant and bar area. Its sheltered outdoor area, says owner Kirsty McKay, is in a glorious spot facing north-north-west looking up at Mt Tamahunga and across bush and farmland. There's plenty of room for the whole family, and now that the good weather is underway, there'll be swingball sets in place. And if you're on driving duties, you'll be pleased to know the Brewery is also now selling its pilsner and IPA in six-packs ($21.99) that you can take home to enjoy in your own sunny space.
Sawmill Brewery and Smoko Room, 1004 Leigh Rd, Matakana.
2. Swashbucklers
Closer to home, and in a completely different type of setting is "Swashies", a quirky establishment at Westhaven. Specialising in seafood, its Boatshed Bar is a lively place to grab a drink and a bite to eat, but we recommend heading outside to the deck, which overlooks the marina and the Auckland Harbour Bridge.
23B Westhaven Dr, Westhaven.
3. Hallertau
This West Auckland favourite at Riverhead has had its new, expanded biergarten open since the middle of the year; but it's really going to come into its own over the next few months. Prettily landscaped with subtropical plants, Hallertau's huge garden has a seating area with long communal tables under a clever retractable roof. The central outdoor kitchen and bar area has a wood-fired pizza oven and chargrill, and there are sun shades dotted about the rest of the seating areas.
1171 Coatesville Riverhead Hwy, Riverhead.
4. Golden Dawn
This Ponsonby Rd hotspot, originally opened as a pop-up, has one of the best outdoor spaces in Auckland. Tucked away from the hustle and bustle of the Ponsonby strip, Golden Dawn's buzzing courtyard is home to long communal tables, shade if you desire it, entertainment, and its own bar.
Cnr Ponsonby and Richmond Rds, Ponsonby.
5. Northcote Tavern
One of Auckland's oldest pubs, est. 1884, the Northcote Tavern has a massive grass lawn beer garden adjoining its family lounge bar, The Highlander, and offers a different perspective of the city and harbour bridge facing south. Inside the historic building you'll find a traditional tavern, complete with some of the funkiest tartan carpet you'll find anywhere in the country. There's plenty of parking or catch the ferry.
37 Queen St, Northcote Pt.
Share this:
More Food & Drink / Wine & Drink