Mixed Sushi Recipe
Make a special dinner or entree with this assortment of sushi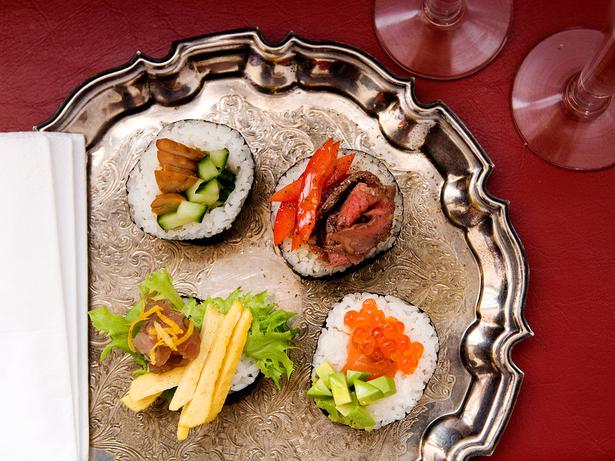 Thursday Nov. 17, 2011
SUSHI
Serves 4
1 cup sushi rice
1 cup water
1½ Tbsp rice vinegar
2 tsp salt
1 Tbs caster sugar
4 nori sheets
Wasabi
Pickled ginger
Soy sauce
(Sushi mat)
Toppings
Seared tuna with egg roll, lettuce and lime zest
Teriyaki chicken and cucumber
Salmon with salmon caviar and avocado
Seared beef with red capsicum and mirin
1. To make the sushi; soak the rice for 30 minutes in cold water.
2. Drain the rice under running water until the water is clear. Put the rice into a saucepan, cover with the water and bring to a boil. Boil for two minutes.
3. Reduce the heat to low and cook for a further 20 minutes without removing the lid.
4. Mix together the vinegar, salt and sugar.
5. Remove the rice from the pot and spread onto a flat tray. Stir the rice continuously while sprinkling over the vinegar mixture until the rice is cool.
6. Place one sheet of nori on the sushi mat. Wet your fingers before spreading the rice - 1cm thick - over the nori, leaving a 3cm space at the far end.
7. Smear wasabi along the front edge, add a little pickled ginger and a sprinkling of soy. Add the chosen filling then roll with the sushi mat to make a tight roll, squeezing as you go.
8. Remove mat, slice rolls and arrange more of the toppings on top of each before serving.
Share this:
More Food & Drink / Recipes