Tamarind and Horseradish Ribs Recipe
Learn how to slow-cook ribs so they're succulent and tender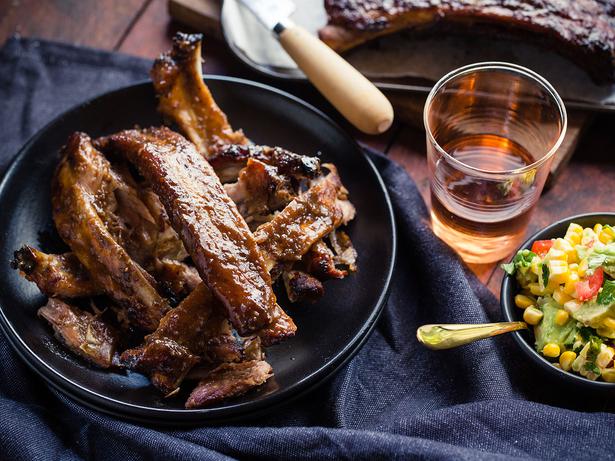 Friday Jan. 27, 2017
These tamarind ribs I marinated before freezing, so they just needed to be thawed and slowly cooked until succulent and tender, ready to be eaten with fingers after adding a spoonful of tasty salsa. Fresh corn is, for me, the taste of sunshine. Boil it for five minutes and slice off the kernels for this salsa.
TAMARIND AND HORSERADISH RIBS RECIPE
Serves 4
¼ cup soy sauce
100ml tamarind
1 Tbsp horseradish
2 cloves garlic, crushed
Zest and juice of 1 lemon
1.5kg pork ribs
Corn Salsa
1 corn cob, cooked
1 avocado, chopped roughly
½ cup chopped coriander
½ chilli, chopped finely
Zest and juice 1 lime
Salt and pepper to taste
1. Into a small bowl combine the soy sauce, tamarind, horseradish, garlic and lemon juice. Place the ribs into a large dish or plastic bag. Smother over the marinade and leave overnight or for at least two hours.
2. Preheat an oven to 160C.
3. Place the ribs into a baking dish lined with baking paper. Cover with tinfoil and place into the oven for two hours.
4. Turn the oven to 180C. Remove the tinfoil and continue to cook for another hour until the ribs are golden brown. Alternatively barbecue the ribs until golden and delicious.
5. To make the salsa, into a small bowl mix the corn, avocado, coriander, chilli and lime juice. Season with salt and pepper.
6. Slice the ribs and serve with the salsa.
Share this:
More Food & Drink / Recipes