Tapenade Stuffed Pork Fillet Recipe with Apple Sauce
Try these no-fuss pork fillets with apple sauce to add a touch of sweetness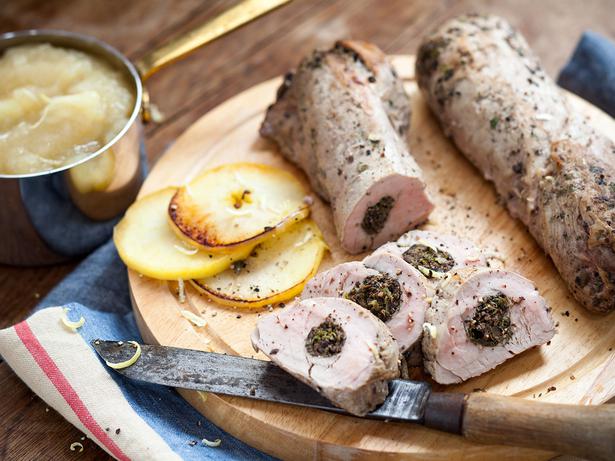 Thursday June 9, 2016
TAPENADE STUFFED PORK FILLET RECIPE WITH APPLE SAUCE
Serves 4
• 600g pork fillet
• ½ cup tapenade
• 1 Tbsp butter
• Salt and freshly ground pepper
• 1 apple, sliced
Apple Sauce
• 4 granny smith apples, peeled, cored and chopped
• Zest and juice of 1 lemon
• ¼ tsp allspice
• ¾ cup water
• ¼ cup sugar
1. Preheat an oven to 180C.
2. To make the apple sauce, place the apples, lemon, allspice, water and sugar into a medium-sized pot. Stir and bring slowly to a simmer. Cook for 10 minutes until the apples have softened and can be mashed with a fork. Remove and set aside until needed.
3. Using a sharpening steel or the end of a knife, make a cavity approximately 1cm in diameter through the centre of the pork fillets. Start at one end and then the other, meeting in the middle.
4. Using a spoon and your finger, fill the cavity with tapenade.
5. Heat the butter in a frying pan. Brown the fillets on all sides, season with salt and pepper then place into the oven for 15 minutes until cooked through. While the fillets cook, brown the apple slices in the same pan for 1 minute each side.
6. Slice the pork to serve with the fried apple and sauce.
Share this:
More Food & Drink / Recipes