TBT: Scotch Eggs, Chocolate Fish and More Old-Fashioned Food to Remember
Ten top chefs and restaurateurs share their food memories, with substitutes for today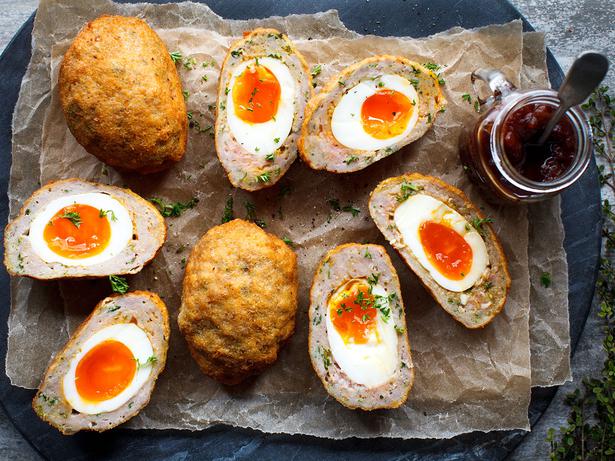 Thursday April 28, 2016
Damaris Coulter, Coco's Cantina
"When I was a child there was very little processed or packaged food, everything was homemade. Most of the women or households in our community (a little rural area called Victoria Valley just outside of Kaitaia) were famous for their own dish.
"Some of my favourite memories are my nana's banana cake, curried mince and cauliflower pickle, Aunty Janie's cream puffs, Aunty Kaye's ginger crunch, my mum's Maori bread and the endless hangis, tuatua fritters and pigs on spits, with recipes that would differ famously from family to family.
"Another happy food memory is damper (camp bread cooked on a stick over a fire). We used to make it with our dad, he would light a fire and let us mix a dough, mould it around a stick and cook it. It didn't taste very nice but it was the ritual that seemed so fun.
"My all time favourite was going to my nana's house and having flaked yeast (brewer's yeast) on Vogel's toast with butter. I recently found brewer's yeast again at the health food shop and New World and now eat it this way most nights after work."
Benjamin Bayly, The Grove and Baduzzi
"For me a great food memory is the chocolate fish. You know, the ones that are marshmallow inside? My granny would look after us in the holidays as kids. She would always take us to Te Rapa pools in Hamilton, we loved it. However, it was the religious stop at the Sandwich Rd dairy on the way home that was the best fishing spot for the elusive but tasty species of fish - The Chocolate Fish.
"Those were the good old days… have you tasted a chocolate fish lately? They are cheap, nasty and crap - don't buy them. You can't get good ones any more. Maybe there should have been a quota system so we didn't overfish? So there would be chocolate fish for my kids and my grandkids - the next generation! These thoughts on sustainability weigh me down at times. There is a lesson in everything."
Megan May, The Unbakery
"I was a junk food addict when I was a kid, unbeknown to my parents at the time who would have been mortified if they had known how much candy, ice blocks and milkshakes I was consuming each day. I have a lot of nostalgia for those childhood flavours but don't really miss the horrible feeling you get from eating truckloads of sugar, or the fact that I spent half my childhood unwell because I was allergic to gluten, dairy and sugar.
"I have taken that nostalgia to the kitchens of The Unbakery, so I don't have to miss out and can feel good at the same time. There are a lot of drinks and desserts at our cafes that have been created with my childhood favourites in mind. Like raw passionfruit cheesecake, inspired by Sara Lee, cold brew iced coffee milkshake - Nippy's iced coffee, strawberry nut milk - Nesquik strawberry milk and our raw hazelnut and chocolate cookies - one of my all time favourites, Cookie Time cookies.
"Hopefully my kids won't have to recreate healthy versions of these yummy foods and will only have a taste for the good stuff! Fingers crossed."
Vaughan Mabee, Amisfield Bistro
"As a Kiwi kid growing up in Auckland and Kerikeri, life was simple. Most things we ate and loved are still here, like white bait, roasts, snapper. My father used to make us Scotch eggs for after rugby, my brother and I loved them, I haven't seen them since.
"I was working in Spain in a three Michelin starred restaurant, Martin Berasategui. I was working on developing a recipe of a quail egg wrapped in octopus then crumbed with caviar sauce. The idea came from after rugby. This never made the 18 course menu, although other recipes I made did."
Danny Simpson, Kokako Cafe
"Growing up in Scotland was amazing; beautiful scenery, great forest walks looking for berries and mushrooms with my dad, playing outside with my sister in freshly fallen snow, the evidence of crushed berries slightly frozen to our faces.
"A warming cry from mum pierces the air. This can only be a good thing. We run to the front door, throwing our oversized winter clothes into the hallway. I know what's going down, I can smell it and I can't wait.
"I sit at the table eagerly looking at my sister, my hands still freezing cold. I can barely hold my cutlery that has been sprawled out over the table like a winter feast is on its way. Then it arrives - the biggest bowl of mum's stupidly hot homemade soup, jam-packed full of vegetables, barley, chicken, whole potatoes and lentils. I can barely see it as the steam bellows and I warm my hands, unable to eat for fear of losing my tongue to third degree burns.
"To accompany this, Mum brings out a huge plate of thick-cut sandwiches filled with everything that was left in the fridge. Warm butter dripping out, the fight is on. No side plates here, we slam as many sandwiches within anti-stealing distance of our soup, dipping them and tearing them apart. "This memory will always stay with me - my mum slaving in the freezing cold winters of Scotland and my little sister's face covered in soup.
"One day I will open my own business and sell this memory for all to enjoy. In the meantime I'll continue to make winter soup at Kokako and take some to my sister in the hope that it's up to scratch, as this meal only needs two judges that I care about - my mum and my sister."
Josh Helm, Orphans Kitchen
"I remember getting Double Happys at the school tuck shop. These were two sausage rolls, with chutney down the middle, encased in pastry. They may not have set the culinary world on fire, but once you had scabbed enough money to buy one (asking third formers for 10c worked a treat), it was the highlight of the day. You just had to make sure you ate your lunch at morning tea because there was nothing worse than getting a Double Happy that had sat in the pie warmer too long.
"There is no modern day replacement, you'd be clutching at straws. Memories are the only things that stay the same; why ruin these experiences?
Andrew Saxon, Terroir Restaurant at Craggy Range
"Growing up in Auckland, driving up to Whangaparoa and digging up tuatua and pipis with our feet. Tossing them onto the barbie or going into the Hauraki Gulf and simply cracking oysters off the rocks not far from Auckland.
"Unfortunately a lot of the simple pleasures that we enjoyed as children have come under pressure from urban sprawl. As head chef at Terroir Restaurant I am able to evoke some of these memories, sourcing fresh produce and seafood from Hawkes Bay and other areas of New Zealand. At the moment we are dishing up delicious clams sourced from Marlborough."
Michael Van de Elzen
"One of my favourite childhood memories is running down the driveway in the morning to get the silver-topped milk which was delivered to the gate. My sisters and I would fight over the cream at the top of the bottle. Mum wouldn't let us open another until the first one had been finished, so you can imagine the disappointment and noise if you were the one that missed out.
"Obviously you can still get milk and cream, but having it fresh and first thing in the morning is such a treat. #BringBackHomeDeliveredMilkBottles
"Then the milk company brought out grapefruit juice which you could also get delivered to the gate. Wow, what a treat that was. It was super sour but we loved it. I do miss that juice but I make my own healthy sodas now. I have done grapefruit flavour, which is divine, but my favourite right now is plum because they are in season and of course, for its tartness. I call it plumonade. The recipe is in my Fast cookbook."
Kim Evans, Little and Friday
"Every Sunday as kids we were sent to the dairy for the papers and a loaf of Sunday bread. It was a tin loaf of the fluffiest white bread enclosed with a beautiful thick crust, only available on Sundays. The dairy owner would wrap a piece of lunch wrap around it and off I would go with the loaf tucked under my arm. I would start the homeward journey just tearing off the crusty corner...
"The supermarket trade extending to weekends killed the local dairies, which sold way more than the lotto, lollies and sugar drinks that we see today. They were our source of weekend groceries, selling fresh fruit, vegetables and hot bread. That loaf of bread was so good because it was made with flour, water, yeast and salt. No additives or premixes. I now make a Turkish bread which is our yummy Sunday lunch bread."
Steve Logan, Logan Brown
"Savoury filled crepes and filo pastry; my mouth waters thinking about a spicy cajun crab-filled crepe with hollandaise sauce that we used to serve at Brer Fox Cafe. In the 1980s, most restaurants and cafes served chicken, ham and meat-filled crepes and filo pastries.
"I liked that they were nice, neat and compact and oozed out on cutting. They probably lost favour in a more health conscious world because of the pastry and cream components. A likely replacement would be a filled burrito for the experience, but it's a different continent when it comes to taste."
Share this: