Teriyaki Salmon Kebabs Recipe
Try these simple and tasty kebabs to whip up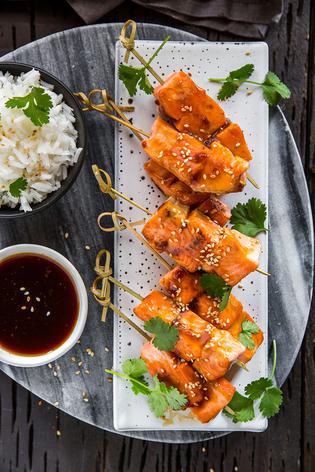 For these kebabs, make this simple teriyaki sauce ahead of time and keep in the fridge until needed. It is one of my favourite go-to sauces; perfect with salmon, it is also great with chicken, beef or vegetables. Serve with hot rice and a side of greens or salad. For pre-dinner drinks, you can make these as mini skewers.

TERIYAKI SALMON KEBABS RECIPE
Makes 12
Teriyaki Sauce
1/3 cup soy sauce (not dark)
1/3 cup chicken stock
1/3 cup mirin
1 Tbsp grated fresh ginger
½ tsp arrowroot, mixed with 1 Tbsp water
600g salmon fillet, pin bones removed
Rice to serve
Toasted sesame seeds
Coriander to garnish
1. To make the teriyaki sauce, place the soy, chicken stock, mirin and ginger in a small pot. Bring to a simmer for 10 minutes until is just starts to thicken. Add the arrowroot and bring to the boil for 2 minutes. Set aside to cool.
2. Cut the salmon into cubes. Place three cubes on each of 12 small skewers.
3. Preheat a barbecue or frying pan to a medium heat. Cook the skewers for 2 or 3 minutes each side until golden. While they are hot, brush with a little of the warmed sauce.
4. Serve hot with the remaining sauce on the side, rice, toasted sesame seeds, and a scattering of coriander.
Share this:
More Food & Drink / Recipes