Thai Fish Curry Recipe
Try Angela Casley's easy fish curry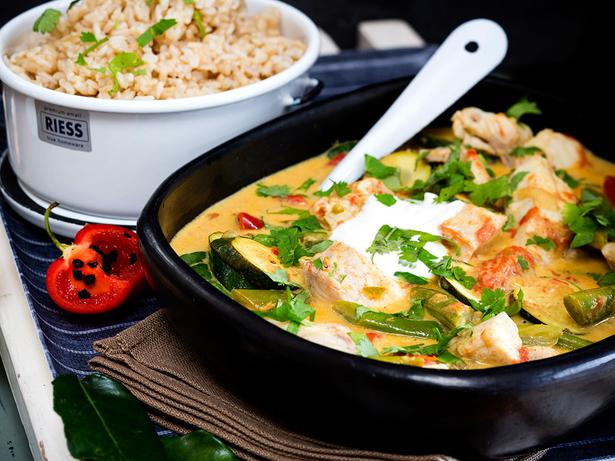 Friday April 4, 2014
THAI FISH CURRY WITH BEANS AND COURGETTES
Serves 4
2 Tbsp oil
1 small onion, chopped
2 cloves garlic, crushed
1 Tbsp grated ginger
1 red chilli, chopped small
2 tsp ground cardamom
1 tsp ground fennel
2 tsp ground cumin
2 tsp ground coriander
1 Tbsp tamarind
420g tin coconut milk
100ml water
1 kaffir lime leaf
3 cups chopped courgettes and beans
600g fish, cut into 2cm cubes
½ cup chopped coriander
Rice for serving
1. In a heavy based pan heat oil to a medium heat. Add onion, garlic, ginger and chilli and cook for 2 or 3 minutes. Add cardamom, fennel, cumin and coriander. Stir through to combine until mix smells fragrant.
2. Add tamarind, coconut milk, water and kaffir lime leaf and bring to a simmer for 5 minutes.
3. Add vegetables and cook for a further 5 minutes. Then add fish, stir through gently and leave for 2 minutes until just cooked.
4. Just before serving fold through coriander and enjoy with hot rice.
Share this: