The Art Of Antipasto - How To Build The Ultimate Entertaining Platter
Step away from the Kiwi onion dip, follow these cheeseboard tips to really get the party started   
SPONSORED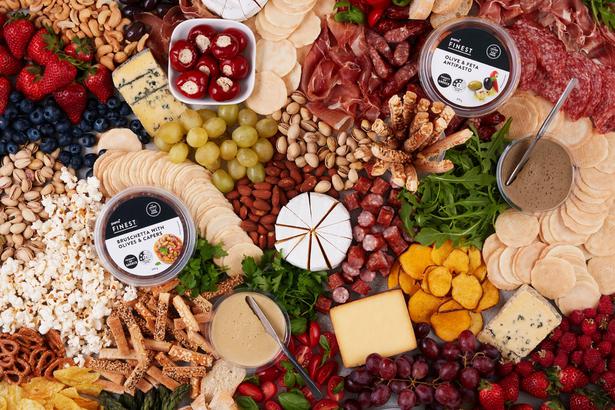 Tuesday Nov. 27, 2018
Secure your title as the hostess with the mostest this party season by impressing your guests with a sprawling platter that leaves sad old chips and dips for dead.

Fresh, hand-made and ornately detailed, the new party platter is brimming with specialty cheeses, cured meats, and quality produce.
But shopping for quality items doesn't have to cost you the earth, either. This season, we're looking to the extensive selection of platter essentials from Pams Finest to get us in the celebratory mood.
Not sure where to start? No need to get overwhelmed - here's how to create an enviable entertaining platter.
Shop: Plan for roughly 30 – 50g of cheese per person, with a limit of five cheeses overall – this is just enough variety to keep things interesting, but not so many that it makes it hard to choose. Opt for a mixture of flavours, textures and colours to appeal to any palate. Estimate three slices of cured meat per person.
Plan: Consider the time of year – you don't want your cheese sweating or splitting. Similarly, cheese tastes best when served at room temperature, so remove it from the fridge at least one hour before your guests arrive.
Prep: Make sure your serving plate is large enough to hold everything. Work in groups of three to give your platter symmetry – e.g. three cheeses, three cracker varieties, three cured meats. You'll want to spread bite-sized ingredients evenly over the board, meaning your guests can reach for their desired bite from any part of the table. Start by arranging the cheeses across your cheeseboard, giving you centrepieces to build around.
Try Pams Finest Rotoiti Blue, Southern Alps Camembert and Tahatai Smoked Cheddar
Pair: Look to simple starches that won't detract from the flavour of your cheeses – think plain wafer crackers, bread sticks or seed-based crackers. Arrange these around your cheeses as vessels to transport them from board to mouth.
Try Pams Finest Sesame Wafer Crackers and Natural Wafer Crackers
If you plan on using a fresh dip like babaghanoush, hummus or tzatziki, arrange breadsticks in a tall vessel ready for dipping.
Try Pams Finest Mini Butter Straws, Butter Cheese Straws with Seeds, and Butter Cheese Straws
Arrange: Take your platter from good to great by filling your platter with an array of textures and place complementary flavours near one another. Roll or fold cured meats to make them appear more appetising, or place in a bowl. Use different bowls of varying shapes and sizes for visual interest.
Try Pams Finest Italian Duo Prosciutto & Salami Milano, Spanish Duo Jamon Serrano & Chorizo, Prosciutto Crudo, Artisan Mini Salami and Artisan Biersticks
Garnish: Colour is key – after all, we do eat with our eyes – so you want to make your platter as colourful as possible. Antipasti items give a bold hit of colour; consider olives, sundried tomatoes, capers and peppers. Contrasting colours should sit next to each other, so that each ingredient stands out and the overall look is more vibrant.
Try Pams Finest Feta Stuffed Baby Peppers, Olive & Feta Antipasto, Kalamata Olives with Oregano & Chili, Grilled Pitted Green Olives, Green Olives with Cranberries & Honey Vinaigrette
Serve: Each cheese should have its own knife, as should any pate on the cheeseboard. Be practical about your choice of knife – can it cope with hard cheeses? Does it offer a clean line from the gooiest cheeses?
Try Pams Finest Peppered Chicken Pate, Duck and Triple Sec Pate, and Chicken and Whisky Pate
Decorate: If you've gone to the effort to lay out a sumptuous platter, then the rest of your table arrangements should follow suit. Linen table runners or placemats will add to the air of sophistication.
Whatever the occasion, the extensive range of quality antipasti items from Pams Finest has all your entertaining needs covered. It doesn't end with platters, either. From beach to bach, look out for Pams Finest prolific offerings in your local supermarket this summer.
For more information, visit Pams.co.nz or head here to be in to win one of five Pams Finest Entertaining Hampers, worth $100. 
Share this: