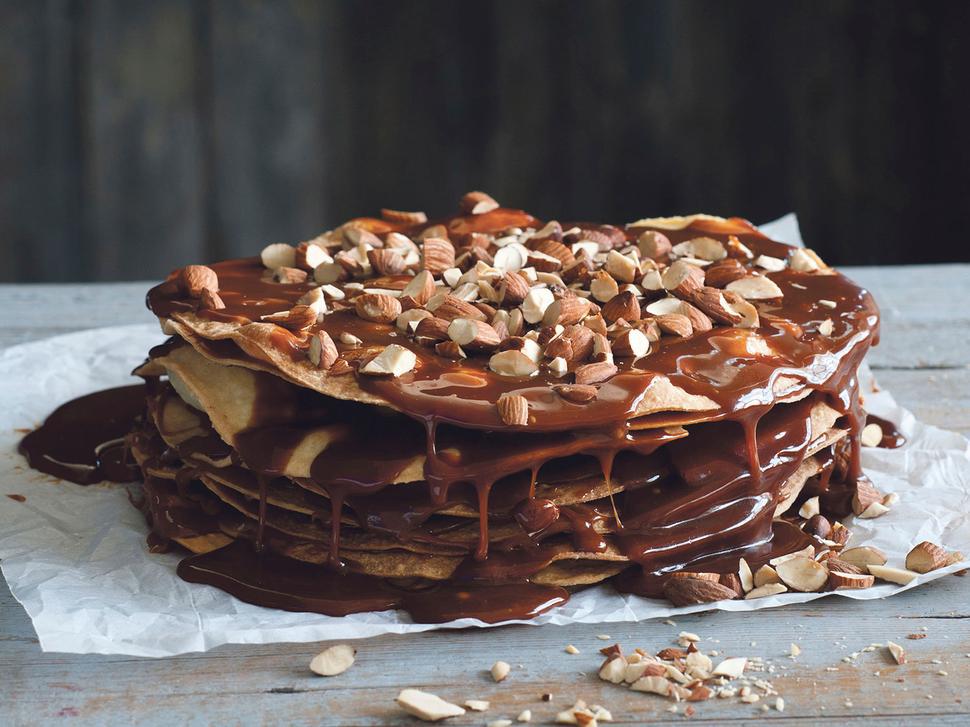 16 Decadent Easter Recipes
From Ima's hot cross buns to molten chocolate egg cups, impress with these oh-so-special recipes for the Easter long weekend
Tuesday March 30, 2021
Caramel Torte with Almonds
Shereen Aaron's grandmother's caramel torte recipe is taken from Monday Morning Cooking Club, a cookbook which focuses on Sydney's Jewish community. What was once a closely guarded secret, is now ready to be shared with the world, and hooray for that.  
Little Spiced Fruit Buns
When it comes to Easter, you can't beat indulging in a lovely spiced fruit bun. Eleanor Ozich has used spelt flour, honey and coconut milk for a more wholesome version.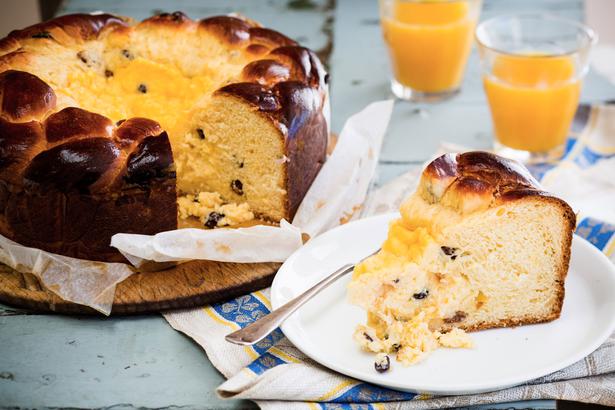 Hot Cross Buns From Ima Cuisine
Yael Schochat of Fort St's Ima shares her delicious hot cross buns recipe with us. Best served warm, with good-quality butter. 
Chocolate, Raspberry & Grand Marnier Semifreddo
This is light, creamy and easy to make, suitable for entertaining because it can be prepared well ahead of time. Just whip it out of the freezer 10 minutes before you serve - which can either be as a slice or a scoop. To spice things up a little, a touch of extra Grand Marnier.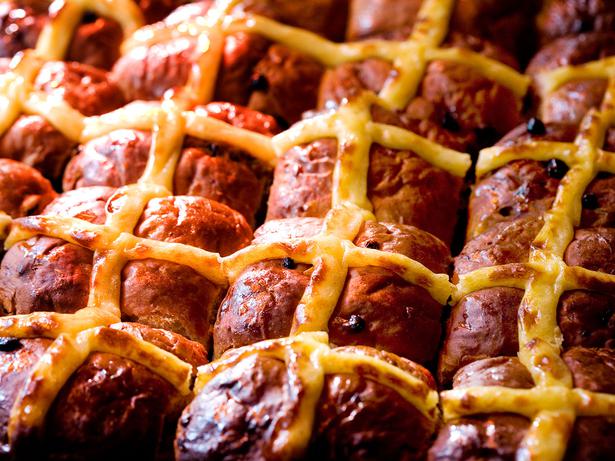 Pear Tart With Walnuts & Chocolate
This tart is surprisingly not too sweet, thanks to the combination of crunchy caramelised walnuts and pears with the chocolate. Make it ahead of time, so it's ready to whip out and serve with a splash of cream or yoghurt.
Cinnamon-Spiced Cookies With Chocolate Sauce
These pumpkin and hazelnut meal cookies are subtly spiced with cinnamon and drizzled with homemade dark chocolate sauce. They are incredibly soft and chewy, just as a cookie should be, and free of gluten, wheat, refined sugar, dairy and eggs. You could also make them using banana instead of the pumpkin if you prefer.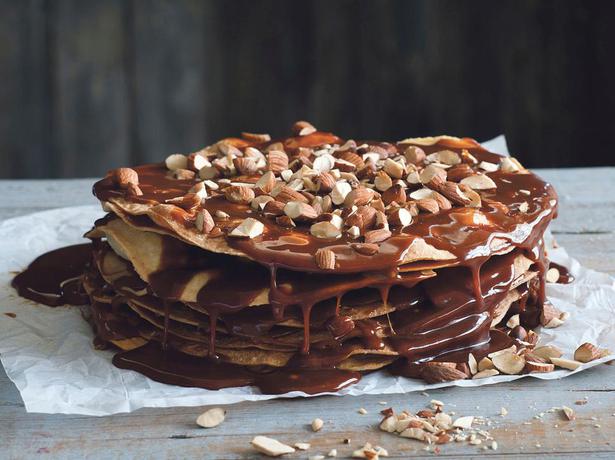 Easter Bread With Ricotta Filling
Romanian Easter bread comes with a ricotta filling. Even though you'll be tempted to eat it straight out of the oven, this bread would benefit a 30-minute sitting before feasting. For extra flavour and aroma, feel free to add a few splashes of rum to the bread. 
Cocoa Brownie With Ganache
If you love your brownies gooey in the middle, this is the recipe for you. This soft and rich brownie with a lovely earthy cocoa flavour is a chocolate lover's dream. And isn't that what Easter is all about?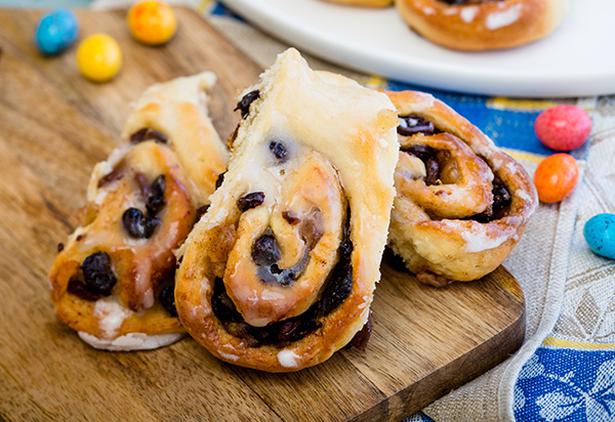 Rich Easter Crown
This rich Easter Crown is easy to make and best eaten warm, straight from the oven with a good coffee. If you have children who dye eggs for Easter, push three to four into the dough just before cooking to create a colourful crown effect.
Vegan Chocolate Brownies
Full of wholesome ingredients, these rich, fudgy brownie cakes are vegan, gluten-free and lightly sweetened with rapadura sugar, which is a lovely caramel-tasting sugar that has been through minimal treatments.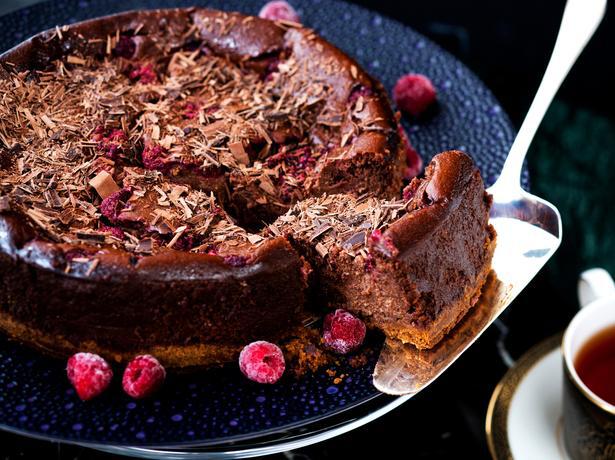 Baked Chocolate & Raspberry Cheesecake
Chocolate and raspberry has to be one of the most deliciously decadent sweet combinations.This cheesecake is a throwback from the 80s, but it's a classic that has stood the test of time. 
Easter Egg Molten Cups
The ultimate Easter dessert — gooey chocolate puddings filled with mini caramel eggs and your choice of mascarpone or icecream.
Chocolate Marshmallow Slice
This marshmallow slice was made by our grandparents and was always popular with the children. White and pink (depending on how much colouring was added), we loved the texture and sweetness.
Baked Coffee & Chocolate Custard
This simple recipe requires eggs, milk and instant coffee. Serve this decadent dessert topped with chocolate coffee beans for a sure crowd pleaser.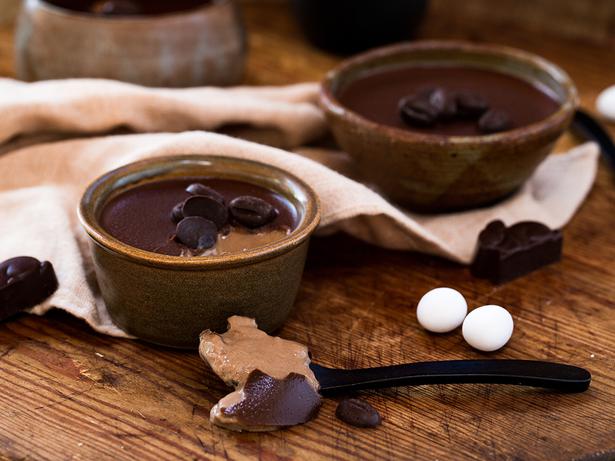 Baked coffee and chocolate custard. Photo / Babiche Maretns

Brioche Buns With Chocolate, Almond & Figs
Swap traditional buns for brioche with these buttery morsels baked with chocolate bits, roasted almonds and dried figs. Leave to sit for a few minutes before enjoying them warm.

Custard Doughnuts With Chocolate Sauce
A baked alternative to chocolate eggs, these custard-filled doughnuts are fun to make. Dip them in a rich chocolate sauce for a finger-licking treat.
Share this:
More Food & Drink / Recipes