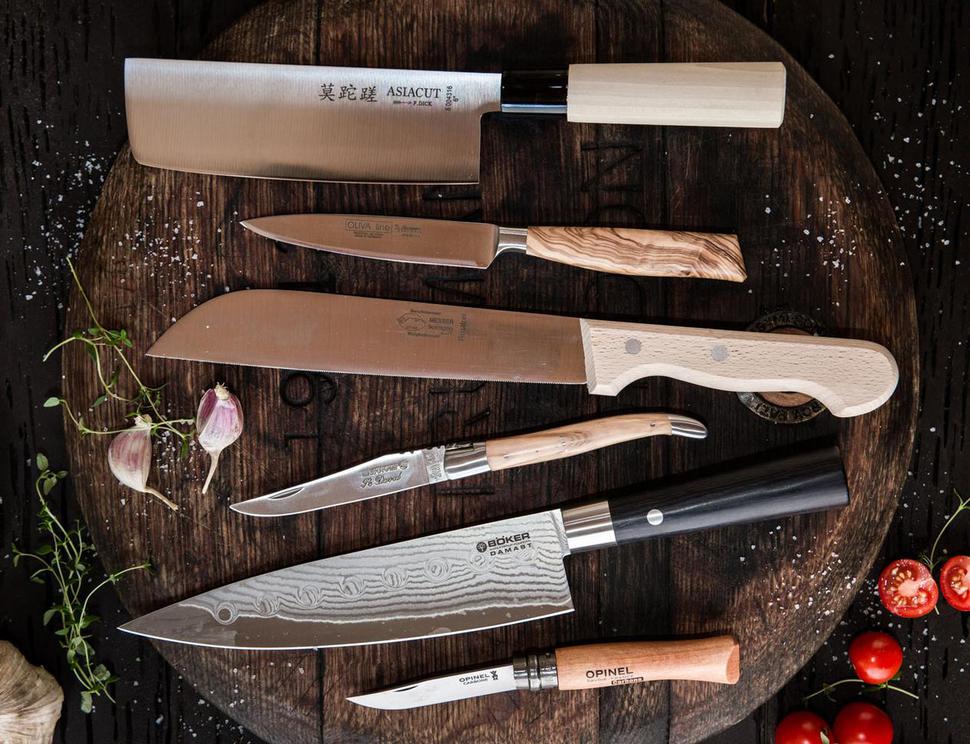 A Cut Above: The Best Knives to Add to Your Kitchen
A set of great knives is one of the best investments you can make in the kitchen
Thursday March 15, 2018
From top to bottom:
1. Opinel knives have been popular for more than 100 years and this trusty little number ($26) has a folding Yatagan-shaped blade and a light-as-air handle. If you're using it while camping or out and about, just be sure to it keep it dry and oil it often if you choose the carbon steel blade.

2. The Japanese-style Boker cook's knife ($351), made from dozens of layers of stainless steel, is as beautiful to look at as it is to use. Its incredibly sharp blade makes it ideal for cutting the most delicate foods, as well as large vegetables and meat.

3. Another multi-purpose folding knife, the French-made cutlery by R. David Laguiole ($248) is finished with a sculpture of a tiny mouche (fly), added where the handle begins.

4. The German Otter Company make a famous pocket knife and have used traditional techniques to create this bread knife ($39), which will become your new best friend in the kitchen.

5. Whoever's on vegetable duty will love this Burgvogel paring knife ($80), with a handle made of olive and a blade that blends the best of Asian and German design techniques.

6. This versatile usuba (thin blade) knife ($112) is a hot favourite with Japanese chefs when it comes to preparing vegetables.
• All from House of Knives. Visit Worldofcutlery.net
Share this: