Why The Culpeper Is Smokin'
The Culpeper restaurant has opened in Princes Wharf, complete with barbecue oven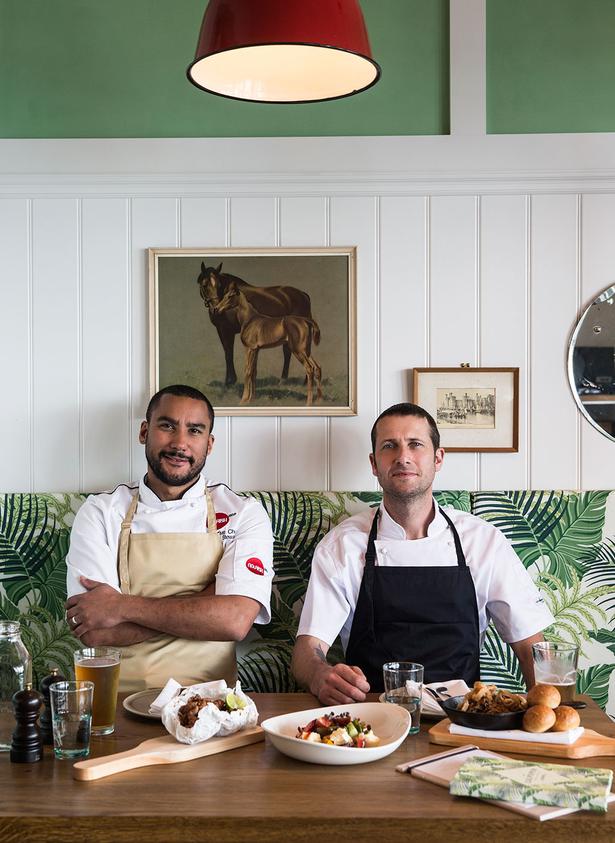 Friday Dec. 4, 2015
What are some of your favourite foodie memories?
Gareth Stewart: Family dinners at my grandparents' place. Always plenty of jerk chicken, curry goat and rice and peas to go round. Also cooking at home with my Mum, baking rock cakes most weekends from the age of about 8.
Nigel Reid: Making banana cake with my mother from age 5, licking the bowl and spoon. I still enjoy doing that.
What's inspiring you food-wise right now?
GS: The heirloom tomatoes that are coming through, along with artichokes and summer beans. My favourite dish in the world to prepare is artichokes barigoule — which has already featured as a special at Euro [where he's also executive chef].
NR: I love spring and summer. They're the fruitful seasons so there's always loads of great produce available at the markets. At home we love to grow our own vegetables — tomatoes, artichokes, broccoli, different lettuces, and herbs. This year my favourite is baby red Russian kale. It's great eaten raw or lightly pan-fried with butter, garlic and lemon.
What are you most enjoying cooking at the moment?
GS: We've just purchased a smoker from the States for the Culpeper so we are loving the low, slow cooking of brisket.
Favourite style of food?
GS: I am very much in love with Indian curry and love to have a little of that influence in what I cook. I'm also a sucker for Southeast Asian dishes. Basically anything that packs a punch in flavour and heat. I do most of the cooking when I'm home, I enjoy it. I like to cook reasonably simple food but try to keep it different so my boys get to try different things.
NR: I'm a simple guy so I like to keep it simple, fresh, and cooked well. My wife, daughter and I spend a lot of time in the kitchen together, it's our favourite place to hang out.
Favourite summer or easy holiday dish?
GS: Anything that can go on the barbecue. I love to get a shoulder of lamb and marinate with cumin, garlic, paprika and preserved lemon then slowly barbecue and cook so that it falls off the bone. I pair it with a fresh tabouleh, labne and flatbreads.
NR: Since I was a kid I've loved fresh berries and pannacotta.
What will you be doing with any free time over summer?
GS: Playing with my kids. I love spending time with my boys Harley and Freddie and my wife Angela. Seeing my sons get into fishing is the best feeling and one of the reasons I wanted to move to New Zealand — it's such a great place to raise kids. We will also likely head over to Kawau Island to a friend's bach and get away from the city and technology. No TV or computer, no emails and the phone is switched off. I got a beer brewing kit as a Father's Day gift that has only had one piece of action so far, so if I have any spare time I intend to get some more brews on the go.
NR: Spending any spare time at home with my family and baby girl. Baby number two on its way — a boy due at the end of January. So excited! I'm a bit of an upper-middle-bogan so I love fast cars. Anything to do with food and cars gets me excited and now I have a family so that excites me too.
And if you could jet away further afield?
NR: I just spent seven years in London which I loved, so I can't wait to holiday back there again. So many great places to eat and travel.
Plans for Christmas?
GS: We tend to keep it quite traditional over Christmas. Even if I'm not supposed to cook I always gravitate towards the kitchen. I like to tinker away with a glass of bubbles in hand and Christmas music on in the background. We start the day off with eggs benedict then a simple lunch of sliced ham and cheese — then turkey and roast potatoes, stuffing and all the trimmings come out. Christmas pudding sometimes gets put aside.
NR: I'll be cooking for family or friends if I'm not working! Hell yeah, love Christmas. Not sure what I'll be cooking yet, probably a combined effort with friends.
If you could invite some extra dinner guests for Christmas who would they be?
GS: David Attenborough, Ferran Adria and Daniel Humm.
Share this: