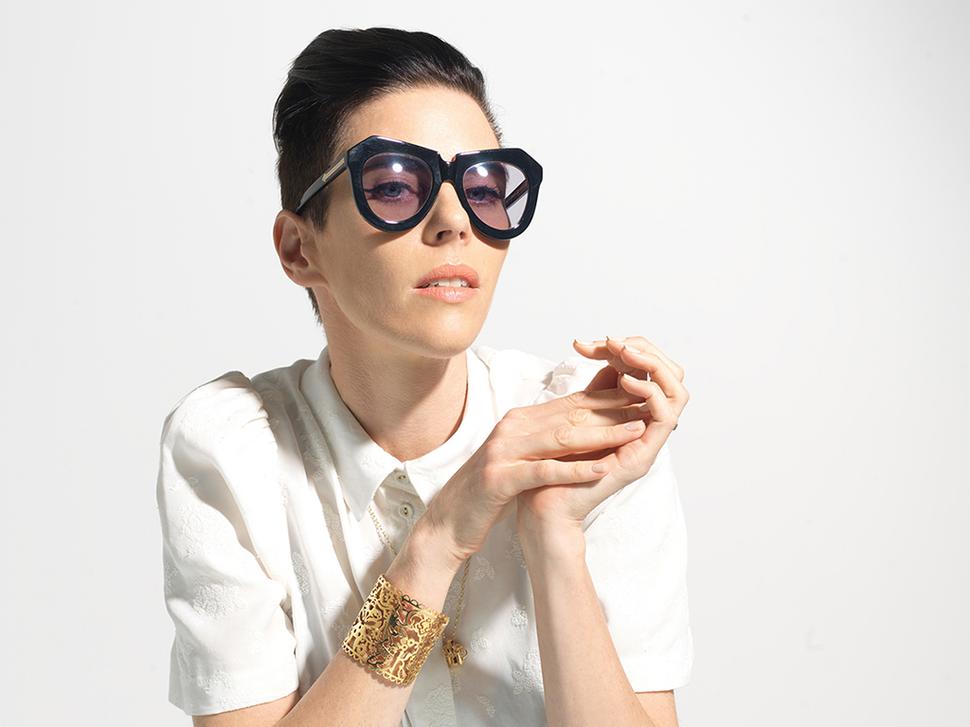 The Food Diary: Karen Walker
Tuesday March 3, 2015
Can you describe the way you eat during a busy event such as New York Fashion Week?
Before New York Fashion Week we're in our pre-production space for days on end and so try to have as much variety as possible in terms of what food we get in, so it doesn't get too Groundhog Day. But it's always healthy and it's three meals a day with lots of energy snacks in between. The rules are: no skipped meals and no junk. Lots of great salads and soups especially. New York's terrific for food deliveries. There's no lack of great places that deliver right to your door.

What was the best meal you've had this week, and where did you have it?
I'm in LA right now and had a really nice fig salad at Fig and Olive on Melrose Place. However, in New York City earlier in the week, I had a wonderful leek tart at the Rose Bakery at Dover Street Market. Rose Bakery's always a favourite.

How would you describe your diet most of the time?
Three healthy meals a day with the occasional treat. Mikhail makes breakfast for the family every morning and it's a really important part of our day. Seasonal fruit and a hard boiled egg each.

What are you favourite places to dine — here and abroad?
In New Zealand I eat mainly in my own neighbourhood and my usuals are Orphans Kitchen and Conch. I also love Ortolana in Britomart. When I'm travelling some of my favourites are Cafe Sabarsky in New York, Raoul's, also in New York, Chateau Marmont in LA and Chiswick in Sydney.

What's your favourite dish?
A substantial salad is always good — I've a burrata and snow pea tendril salad I'm making a lot. Thanks Donna Hay! I also love making sherry-roasted pear and eschalot salad. Thanks again, Donna! And I always look forward to fig season for anything with figs in it.

Favourite drink?
San Pellegrino.

Do you do much cooking at home, and if so, what do you like to make?
I cook as much as time allows. I'm not ashamed to say that a few nights a week (at least) it's a TV dinner from Ripe or a slice of Il Buco's finest. If I am cooking it's usually salad in summer and a great soup in winter. Generally, it's thanks to Donna Hay (idiot proof) or Yotam Ottolenghi (not quite so idiot proof but worth it!)

How often do you host friends for dinner? And what are your dinner parties like?
Not as often as I'd like. Maybe once a month or two. Never more than six people around the table. More than that's just too hard! Usually I'll serve a small salad, followed by a risotto-type thing — often mushroom, some sort of fabulous pudding and a cheese board with all sorts of amazing treats from the dairy at Ponsonby Central — the best cheese shop in the world.

What's your most vivid food memory?
Grilled artichokes followed by wild strawberries in a little courtyard in the Jewish quarter in Rome with my husband, brother and brother-in-law. Heaven.
Share this: