Sid Sahrawat Loves Fried Chicken, Could Do Without Offal
Sidart and Cassia owner Sid Sahrawat shares his food diary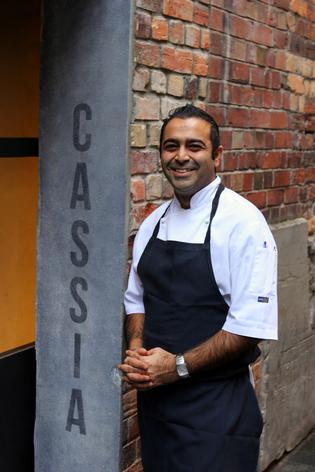 What have you eaten today?
A bagel from Best Ugly Bagels at about 10am. It's my ritual to get a coffee and a bagel before work. They're amazing bagels. Today I got the Yodi: beef pastrami, mustard, Swiss cheese and pickles.
What do you cook at home?
All sorts, really. Roast chicken, a nice soup, Thai curry, pasta. As a family we'll quite often go out for dinner on a Sunday, and cook at home on the other nights. I love Baduzzi, Moo Chow Chow, Sri Pinang. We don't really do formal dining; we like to eat at more relaxed places. I love Asian food — Thai, Indian, Japanese. Masu is another favourite. We try to educate our daughter to eat well, try lots of different things. She loves sushi. But she's not big on mushrooms and greens which I think is normal for a 4-year-old.
What dishes are you developing right now?
We're working on a dessert at Cassia, a steamed yoghurt I discovered, where you mix yoghurt, cream and condensed milk and steam it in the oven. It has this amazing brulee consistency, like a mousse, it's very beautiful to eat. It's served with fresh berries, dehydrated milk foam and buttermilk sorbet. So I'm excited about that.
Where did that idea come from?
I'm constantly thinking about food, ways to do things differently. I'll often try things out at the staff dinner. Every night, five nights a week, just before service at 4.30, everyone sits down for about 15 minutes to eat. It could be the start of something special, where we evolve a technique or recipe or refine the flavours before we change the menu. We have a lot of different nationalities working at Cassia: Swedish, English, French, Kiwi, Indian, so they have an interesting perspective.
How will you be celebrating Diwali this year?
To be honest, I don't think I'll be going out to celebrate as I'll probably be working. But I do have fond memories of living in India; it was a very auspicious time, the most important festival of the year. It was a big event for kids because of the fireworks and the sweets we'd get to eat. If you were lucky, you might get presents from your family. In India, you can watch the fireworks in a big playground, but every house generally puts on its own fireworks, or you gather together in someone's house.
Where in India are you from?
Close to Dheli, in Chandigarh, a small town designed by the French architect, Le Corbusier. He designed it amazingly, it's a very liveable city, not very big and chaotic like Delhi and Bombay. My dad was in the army so we had the opportunity to travel quite a lot. We went to all sorts of cities: Kashmir, Darjeeling, close to Nepal which was very hilly and mountainous. I studied in Madras in the south for three years. I moved to New Zealand 15 years ago when I was 20.
How does your heritage influence your cooking?
The food at Cassia has evolved to capture the best of what India's all about, rather than focusing on one region. It's not just about the northern Indian curries but the south and Kolkata, Rajasthan, Hyderabad. Kiwis haven't been exposed to a lot. We do a fish curry that's tomato based; mustard is the major ingredient and it's very aromatic, with an Italian kind of sauce, not so spicy, with coriander.
In Kerala you get the sauces of the south: mustard seeds, tamarind, exotic flavours with a unique complexity. In Bengal, Kolkata and the east of India, you eat a lot of duck, which originates from the north. It's very spicy with a ginger, cardamom, tomato-based gravy. A lot of people relate it to butter chicken but it's not really; cashews give it a nice texture.
What are some of your favourite foodie memories?
Breakfast is a very important time for Indians. For me, it was a chance to spend a lot of time with my grandmother. We'd sit at the dining table, and she'd make stuffed bread or paratha with wholemeal flour, mashed potatoes and onions, coriander. She'd cook it to order, so you'd sit down and eat it straight from the frying pan.
You'd be just about to finish your first and you'd get your second. European food was not as big in Indian then but occasionally we'd have pasta or lasagne or fried chicken. When I went to hotel school I was exposed to a lot of cuisines and styles of food.
Is there anything you're not so great at cooking?
Japanese. I love eating it but if someone told me to make sushi, I'd struggle. Also I'm not a massive fan of offal. I don't like the texture. Brains and tripe and chicken's feet.
What's your guilty pleasure?
Fried chicken. I love the fried chicken at Chop Chop in Ponsonby Central. It's fried in potato starch, so it's gluten free and very light. The flavour is fantastic. It's a chef thing to love fried chicken. And cheese. On a Sunday afternoon I go through a fair amount of cheese — and wine. I love French and Italian cheese, Tomme de Chevre, Livarot, Pierre Robert. I buy it from La Fromagerie, off Khyber Pass Rd. I also love roquefort, a strong unpasterised blue. We make it into an icecream at Sidart, where it's our signature dish.
• Cassia now offers a 5-course tasting menu for $70 per person, with the optional wine matching for $45. The menu changes monthly. Celebrate the Diwali Festival this weekend, noon til 9pm, in Aotea Square.
Share this: