SPONSORED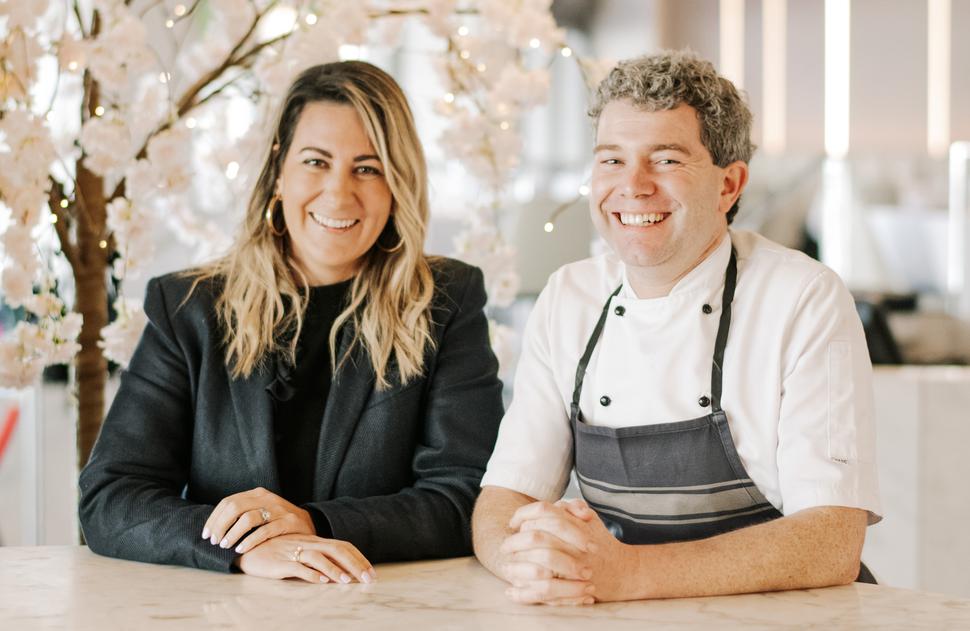 The Recipes That Made Me: Paul Patterson Talks To Soul's Olivia Carter and Gavin Doyle
From the hustle of hospitality to their fiery passion for good food, chef Paul Patterson serves up candid conversations with figures from the American Express Local Dining Collection restaurants
Thursday July 15, 2021

I don't know where to start with Soul, the food is always great, service doesn't miss a beat and the place is on the water — so how would I not come down to find out what makes the place tick over, besides the obvious? A humming establishment like this relies on a tight relationship between the kitchen and front of house, so I decided to catch up with both chef Gavin Doyle and Soul's commercial and events manager Olivia Carter to find out how they do it, why they love it, and what keeps people coming back to Soul.
What is Soul to you?
Olivia Carter: Everything!! The perfect date night, the spot to have your big birthday celebration, the business lunch you know will impress, a place to let your hair down on a Friday night — it's all things to all people and I love it!
What is your preferred food to cook?
Gavin Doyle: Pasta, there are so many textures, techniques and flavours — endless fun and possibilities, and some of the simplest sauces can be the most satisfying. Pasta dishes are my go-to if I'm trying to impress or on in a hurry.
If you had pair one wine and dish, what would it be?
Olivia: A nice big glass of Nautilus Chardonnay with fries and truffle butter!
What's your favourite region for food and wine?
Olivia: I actually really love the United States — LA, San Fran and Vegas are a few of my favourite cities. I have had some of the best eating experiences in all three of these places. I love the bustling, busy restaurants and discovering new trends along the way. My mind has been blown with so many dishes. Family-style is next level, the flamboyance of drinks service at your table is nothing like you've seen before, and the array of different food produce they can get makes me so jealous! There are so many slick operations to experience. I'll never forget sea salt focaccia at Evan Funke's Felix, ricotta and truffle gnocchi at Bouchon in Napa, anything from the Mozzarella Bar at Nancy Silverton's Osteria Mozza and crayfish buns in Vegas at so many places — the list could go on and on. And I have to say it is more a cocktail experience for me rather than wine when over there, which I am not unhappy about.
What is the one country you would love to cook in for one year?
Gavin: Japan. The Japanese make great cars, sharp knives, alcohol and great tasting food. They really hone a craft. Their food is pure.
What is your last supper meal and drink?
Gavin: Roast chicken, roast spuds, broccoli, and gravy, with a big pint of milk — ice cold, full fat (no time for that skinny stuff). Dessert would be the peanut butter parfait from Supernormal in Melbourne. I would instantly go into a food coma, my happy place.
Best meal you have ever had?
Gavin: Saison, the three Michelin Star restaurant in San Francisco, in September 2016. From the moment my wife and I were greeted at the door the whole evening was out of this world, and the night just got better. We were literally sitting opposite the chefs, everything was super luxurious and cooked to perfection, and the courses got better and better — so much flavour, textures and technique, I was blown away. We sat at the bar afterwards for a few cocktails, and the pastry chef kept bringing us over petit fours off the menu. The night could not stop giving. Unforgettable.
Where did you start in the kitchen and where is the best place it has taken you?
Gavin: I started studying computer science, and I failed like a pro in year one — the party scene was way more attractive than doing C++ programming. The only course I could get into at the time was professional cookery. I really enjoyed it, and I went on to get an honours degree in Culinary Arts after that. My first gig in a kitchen was as a commis chef in a small restaurant above a pub, nothing too flash. I always wanted to do more, see more, learn more. I was studying at the time, and I worked every hour going, couldn't get enough. Every style from five-star hotels, catering, bistros, French and Spanish restaurants and mostly in Mint — a one Michelin Star restaurant in Dublin. Through college I won gold in the Culinary World Cup in Luxembourg 2006, and I won a scholarship from DIT to work in Tetsuya Sydney. Then from Australia, I came to the other side of the ditch, little old New Zealand. 10 years later, it's Soul bar all the way. With Soul I have been on some cool research trips — Los Angeles, New Orleans, Australia. We literally go out for lunch and dinner for five days in a row ordering everything off the menu…. tough life I know!! The suitcase is full of extremely loose-fitting clothes. So, I've been around and everything to date is the best, I wouldn't change a thing.
Your favourite memory from Soul?
Olivia: I just love it when it is really busy with big events on — Rugby World Cup, the latest America's Cup, "Super Fridays" during Christmas season — but the Lions Tour was crazy! Having the pressure of being so busy, food and drinks flying out and needing (and wanting) to fit customers in with a line of people out the door — nothing brings me more satisfaction than when the team pull together in all departments and work work work, and we pull off an amazing service. I look around and see guests so happy to be with us and enjoying the buzz — I could live off these fumes of happiness and satisfaction.
What is your biggest day to day challenge in this industry?
Gavin: Biggest challenge right now is chefs, or the lack of.
What is the best way to unwind for you after a hectic day on the floor?
Olivia: Look, I'd love to say going for a walk in nature and meditating or something, but in reality, a nice big chardonnay on the couch, enjoying a binge-watch of something reality with my husband — plus give me some cuddles with my kids and I am done.
How do you keep yourself sane in-between the long hours?
Gavin: Remembering to eat, haha, it seems to be harder than you think for chefs. Also, cycling to and from work every day gets me in the right state of mind going to work, and then going home to the family I get time to
decompress.
What keeps bringing people back after so long and how have you managed to stay ahead of the game?
Olivia: I think the secret to Soul's success is having the perfect marriage of so many elements, and we work very hard to keep it that way. The food of course is simply delicious, and our staff know their stuff — they know if you want attention or need to be left alone, they will recommend their favourite dishes and what wines will match because they have tasted it all and know what works. They really want you to walk away with a memorable experience that will stay with you for days, weeks, years to come. Plus of course our marketing (I would say that), always staying busy, and always finding new ways to have fun in creative and exciting ways.
Head to Soul with your Platinum Card to experience the American Express Dining Credit benefit — enjoying $150 back when you spend $150 or more twice per year, every year. Not a member? Sign up for an American Express Platinum Card at Amex.co.nz
Share this: