The rise and rise of cider
Cider's star is rising around the world, with consumption here looking promising for brewers reports Jo Burzynska.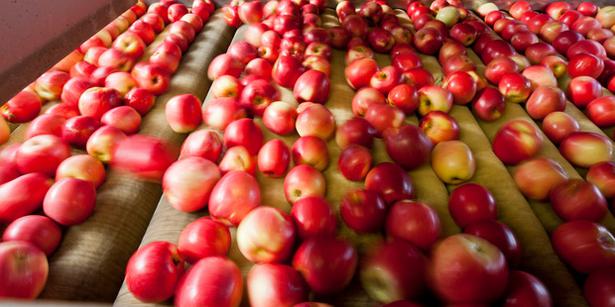 Wednesday Oct. 15, 2014
No longer are forbidden fruit, apples now behind one of the country's fastest growing drink categories. Cider is starting to take New Zealand by storm, following a surge in popularity overseas with increasingly exciting local examples now being crafted.
In the UK, cider started its meteoric rise with the "Magners revolution" that started with the launch of this Irish premium cider in 2005. Marketed to be served over ice, within 18 months it had become the leading bottled alcohol brand in London and went on to refresh the stagnating cider category in the country.
In the US cider sales have been soaring since 2008, driven in part by the experimentation engendered by the country's craft beer boom and the fact that cider is gluten free. Craft beer has certainly become big news over here, but could cider follow a similarly successful trajectory?
"Cider is one of New Zealand's fastest growing categories, with value and volume growing above 30 per cent in the last year," reports David Norman, marketing manager at the country's largest cider producer, the DB Breweries-owned Redwood Cellars.
"While the market is still young and underdeveloped relative to countries like the UK, New Zealand is developing its own love of cider," Norman notes. "The cider category in New Zealand is currently around 7 per cent the size of the beer market, whereas in the UK it is in excess of 20 per cent of the beer market, so we expect the category to continue to grow in New Zealand for some time."
Despite being the source of premium apples, New Zealand cider is very much a new product. However, the potential of great local raw material is making our new artisan cidermakers excited.
"The New Zealand cider industry is experiencing a huge amount of growth: it's a very vibrant and exciting time to be a part of it," says James Ostergren, cidermaker at the new Hawkes Bay cider label, Edgebrook. "New Zealand is an amazing place to grow apples and I believe there is enormous potential to make some of the world's best ciders."
After making wine around the world, Ostergren and his wife Mandy banded together with Hawkes Bay orchard owner, Doug Bailey to form Edgebrook, which started releasing its ciders last year. They trialled local apple varieties for their suitability for cidermaking and also planted an area of Bailey's orchard with classic cider varieties.
Just as table grapes are different from wine grapes, cider apples have a different profile to eating apples, often dominated by a single character - such as high acid, tannins or sweetness - which combined make a balanced cider blend. Many local cider producers use eating apples to make their ciders, but some are striving to source specific cider apples, which can be a challenge given the country's lack of a cidermaking past.
"We had to scour the South Island for hobby cider orchards planted by enthusiasts," recalls Peckham's Caroline Peckham of her and her husband, Alex's apple tree quest. "We collected cuttings from these and one North Canterbury orchard weeks before it was pulled out."
These were grafted on to the existing trees in their orchard, which now boasts 20 different varieties. Although still very much boutique in size this is now likely the country's largest cider orchard. "We believe the best cider comes from the right fruit, so we use only time-tested bittersweet and bittersharp cider apples to make our English-style apple ciders," Peckham explains, lamenting the use of cheap reject packhouse fruit or concentrate in many mainstream ciders.
"The packhouse fruit used by many of the larger companies is unripe, so contains less sugar. This is added to turn it into apple wine and then water is used to lower its alcohol," she notes. "A lot of ciders are also made with concentrate, which is available all year round. However, real cider is made in the autumn by pressing fresh apples and fermenting only that resulting juice."
A tale of two ciders
Rowena Pearce, another winemaker-turned-cidermaker believes "you can make great ciders using eating apples". Along with her fellow winemaker partner Simon, she started making their O Cider brand two years ago from dessert apples. "You will find they are generally lighter and fruitier in nature," she says, "while ciders produced using cider apples are generally rich and full-bodied due to a higher tannin content."
However, the Pearces have now planted 22 varieties of predominantly English and French cider varieties in their heritage orchard, from which they plan to eventually produce an estate cider. Its first fruits form part of their new 2013 Resident Hawk blend, a cider made using the same "Methode Traditionelle" behind many of the world's top sparkling wines.
Pearce has less issue with the apple varieties used for cider and more with the confusion caused by the products being made by the big breweries and the lack of definition of what cider actually is.
"With their deep pockets and existing market share in the beer industry, the two big breweries have posed a barrier for artisan producers to enter the market, resulting in a limited awareness for consumers to understand that cider isn't just a sweet, carbonated drink but that there are many styles it could also be," she claims.
"As producers we are still categorised with 'fruit wines', which we believe is limiting the growth of the industry at present," she adds. "Like the wine industry, we need to create our own industry guidelines, in terms of what a cider is defined as, style guidelines and what can be added. The industry is currently working towards this and if introduced we should start to see real development taking place."
As it stands, although our Food Standards Code defines wine as product derived solely from fresh grapes, it simply states cider is a "fruit wine prepared from the juice or must of apples". There's nothing to differentiate between those made from fresh apples or concentrate and more importantly, no minimum apple content is specified.
If The Fruit Wine and Cider Makers New Zealand's proposed code of practice is embraced, cider will have to have a minimum juice content of 35 per cent. It's a move artisan cider makers welcome and should clarify the status of some fruit-infused "ciders" on the market, which appear closer to RTDs than true ciders.
The wine connection
Cider has rustic connotations, but its can have a complexity comparable with wine. Try the exquisite ciders of the French ex-sommelier, Eric Bordelet, which can even be aged like a wine, and I'll wager you'll be convinced of cider's potential greatness.
Our quality-focused producers too, many of whom are from a wine background, are making increasingly fine ciders worth savouring often using methods borrowed from wine.
"Our approach is much more akin to winemaking," agrees Peckham. "We only use ripe fruit at harvest to make cider once a year from pure juice and maturing the cider for several months up to a year."
Another winemaker behind one of the country's most exciting ciders is Inaki Otegui. Hailing from Spain's Basque country, where he started making cider, he released New Zealand's first "ice cider" Malus Mama. Made from North Canterbury apples whose juice is frozen to concentrate its sugars and flavours before fermentation, the result is a cider with an intensity and profile similar to a dessert wine.
"The philosophy is to make cider like some 'Cru' wines," Otegui explains. "I wanted to make a cider that is representative of the uniqueness of the area from which it comes. I use similarly minimal intervention in making my ciders, wild yeasts and age the cider in barriques."
Innovation
Craft beer is more the inspiration for the innovation seen in the ciders of the Forbidden Brewing company. Perhaps unsurprisingly, its director, Alan Spinks, was once a sales ambassador for craft beer. After teaming up with his cidermaker son, Jordan, he is producing "traditionally made ciders with modern twists". These include the intriguing Hopzilla cider that's infused like beer with local Sauvin hops, and the fiery mango and fresh chilli cider, Lucifer's Revenge.
"Being of English origin my son and I have really tried to go back to how cider should be made and how it should taste," says Spinks. "However, we're working on a number of special, funky releases that will really challenge people's perceptions of cider and their taste buds too."
Whether cider has the potential to be as big as craft beer remains to be seen. However, New Zealanders certainly seem to be getting a taste for it and as more quality local ciders are launched every year, cider looks set to become more of a local staple.
"Cider is a major historical alcoholic beverage of the world, yet it has no history in New Zealand," observes Zeffer's Sam Whitmore. "It will be interesting to see how the category grows and develops and exciting that we can create a New Zealand cider with a taste profile that is unique to our country and the apples grown here."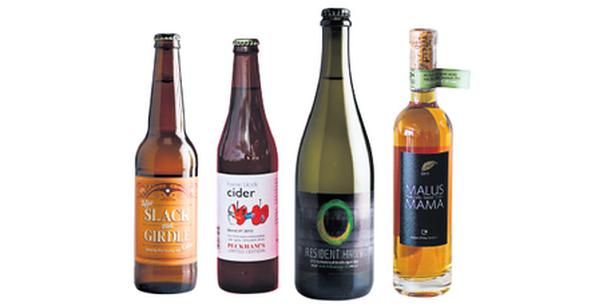 SUMMER CIDERS TO TRY
Zeffer Slack Ma Girdle $10.99 for 500ml
Named champion cider at this year's Brewers Guild Awards, this limited-season release is inspired by the ciders of England's West Country. It's made in a complex dry style from 50 types of apple, with musky ripe apple and honeyed notes counterpoised by those of tart apple and hint of honeysuckle. From Farro, Nosh, Glengarry.
Peckham's Home Block Cider $9.99 for 500ml
Made from Peckham's best cider apples, some of which have been aged for 18 months, this strong (6.8 per cent) blend is a full-bodied and intensely flavoured cider that's dry, crisp with rich apple flavours and notes of butterscotch supported by structuring tannins. From Fine Wine Delivery Company.
O Cider Resident Hawk Methode Traditionelle Apple Cider 2012 $20 for 750ml 
Made in the same style as classic sparkling wine, this is a dry cider with crisp green apple fruit underpinned by an attractive toasty yeasty richness from the time it's spent on its yeast lees. From ocider.co.nz
Malus Mama 2011 375ml $59 for 375ml
A nectareous cider made by freezing the juice before fermentation to concentrate its sugars and flavours, resulting in a wonderfully rich cider with notes of baked apples and spice and a sweetness counterpoised by a crisp tang of citrus. From La Cantina, Wine Circle.
Share this:
More Food & Drink / Wine & Drink