The Secret Behind the Chicken Salad at Dizengoff
This summery dish is still going strong after 21 years on the menu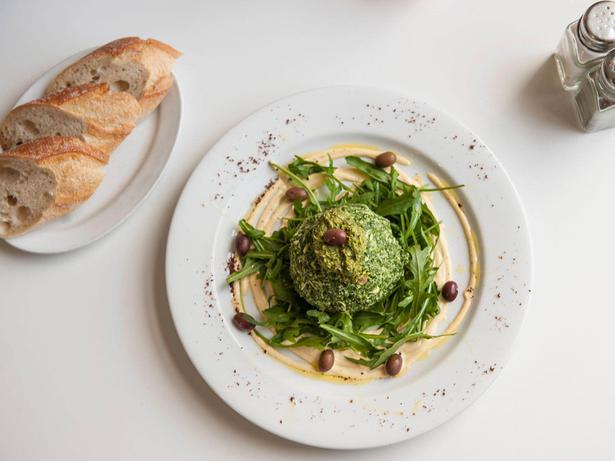 Saturday Nov. 14, 2015
There's no dish on Dizengoff's menu more polarising than the chicken salad: you either love it or hate it, says co-owner Troy Mentor.
"When people order it, we usually show them a little photo of it so they know what to expect," says Mentor. "Some people get such a surprise when it arrives at the table and it freaks them out."
That's because it doesn't look like your average plated poultry — rather a big ball of herby chicken perched on a bed of greens.
Rumour has it that Dizengoff co-founder Andrew Paykel, who opened the Ponsonby establishment in 1994 with Paul Ryan, borrowed a selection of recipes from his Jewish grandmother to start the menu, including this dish. Twenty one years later, Dizengoff still sells about 20 each day of the weekend.
READ: The Secret Behind The Nest at L'oeuf
There are three main components: the chicken, the salad and sauce.
The house aioli is made from egg yolks, garlic and dijon mustard blended slowly with olive oil, which is then zig-zagged on to the plate first, topped with a handful of rocket.
The meat ball consists of poached chicken that's been left to cool and finely chopped in a food processor, mixed with parsley that's also been processed (separately) in a bowl with lemon juice, olive oil, onions, capers, salt and pepper.
Using gloves, this is then moulded into a 10cm-diameter ball with the hands, squeezing out any excess dressing to keep its form.
The ball is then placed on top of the rocket and garnished with parsley pesto and more olive oil, with a few olives scattered around the base and a sprinkle of sumac.
Even if you do end up going back to the tried-and-true balsamic mushrooms at this Ponsonby favourite, the chicken salad is worth a try, even just for the spectacle.
Share this:
More Food & Drink / Favourite Cafes