The Secret Behind The Nest at L'oeuf
Find out how L'oeuf's best-selling dish is made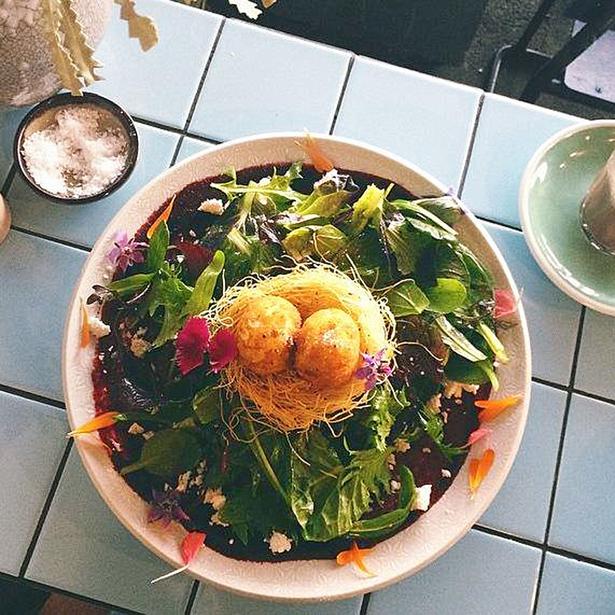 Friday Aug. 28, 2015
If, like us, you've instagrammed a picture of The Nest from Mt Albert cafe L'oeuf, and if, also like us, you've pondered how those crisp-yet-perfectly-gooey eggs came to rest on your plate, then here's your answer.
Conceived by owners and brothers Ludovic and Jasper Maignot, The Nest is made up of four key components — beetroot ketchup, salad, the nest, and two perfectly-cooked eggs — and is one of the most popular dishes on the menu, selling around 50 each day of the weekend.
The house-made ketchup (which you'll have to be careful not to spill on your brunch stripes) is comprised of beetroots, red wine, cinnamon, cloves, nutmeg, salt and raw sugar, and gives the core flavour to the dish.
The salad, if you're lucky, comes scattered with colourful edible flowers, and is lightly dressed with lemon juice, olive oil, wholegrain mustard salt and a pinch of pepper.
Adding texture to the dish, the nest is made from Kataifi pastry brushed with warm butter and moulded to fit the shape of a muffin tin, which is then baked for half an hour at 180 degrees.
And the piece de resistance — the crumbed eggs — are soft-boiled for six minutes, then peeled and rolled in flour, egg mixture and a mix of panko breadcrumbs and crushed pumpkin seeds, before being deep fried until golden.
Although it would be impressive to be able to whip this up at home, we might just leave it to the experts.
— L'oeuf, 4A Owairaka Ave, Mt Albert
Share this:
More Food & Drink / Breakfast & Brunch