Introducing The New Spirit Of Japan
Viva introduces us to the new Japanese spirit on the scene, House of Suntorys' Haku Vodka.
SPONSORED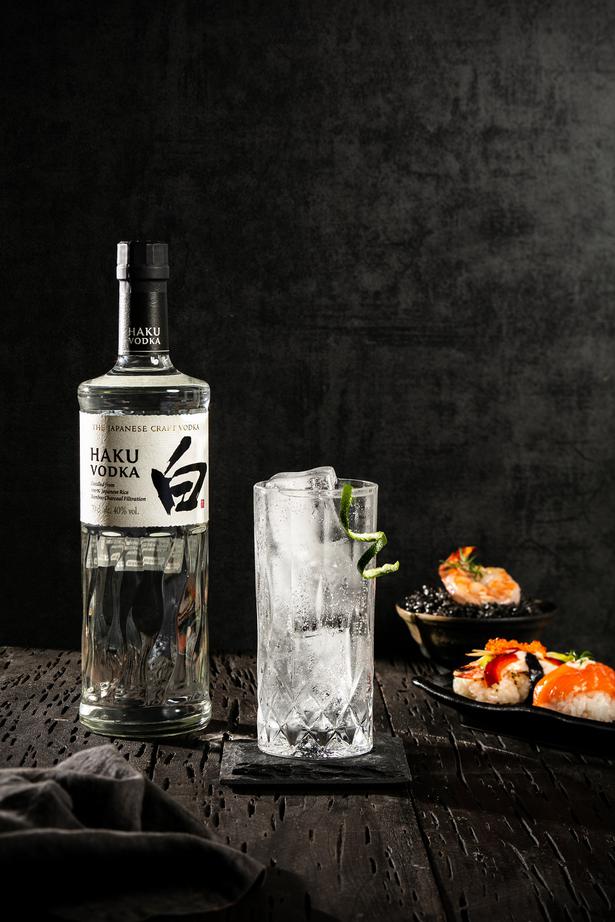 Thursday March 26, 2020
Japan may be famous for its sake – and more recently its whisky – but there's another spirit proving popular for its sophisticated, versatile nature. Japanese vodka is now making a global splash as discerning drinkers look to premium offerings with characteristics unique to their provenance.
Not only does the premium craft spirit Haku Vodka match beautifully with Japanese food, its subtly sweet, clean profile means it's highly complementary with many dishes. Made by the House of Suntory, this premium vodka embodies Suntory founder Shinjiro Tori's philosophy of monozukuri craftsmanship: a relentless pursuit of perfection, meticulous attention to detail and commitment to quality. To enhance a meal or simply enjoy a drink, try a Haku Vodka, Lime and Soda or "Haku Hi".
Japanese cooking and the subtle dance of flavour
Japanese food is renowned for its delicate flavours. In the absence of intensity, umami, the "savoury deliciousness" we often assign to broths and cooked meats, is recognised as the key to a satisfying culinary experience, following sweetness, sourness, bitterness and saltiness.
Haku Vodka pairs well with just about any dish but naturally, it especially complements Japanese food, as Haku's raw ingredient is Japanese rice. Haku can be served neat, on the rocks or in your favourite vodka-based cocktail. The rice not only gives a light, floral aroma but a smooth, sophisticated finish. Haku and Soda, or Haku Hi as it's known in Japan, is a particularly refreshing way to enjoy it.
The unadulterated nature of the drink allows the vodka to shine and cleanses the palate between courses. "I like the simplicity of the Haku Hi," says Haku Vodka's Master Distiller Kazuyuki Torii. "It enhances the soft and subtly sweet flavours of the vodka".
The elegance of entertaining
To show respect and gratitude to your hosts or companions, try enjoying Haku Vodka the traditional Japanese way, by pouring a drink for your guests and allowing a friend to pour one for you. While there are no strict rituals dictating how best to serve Haku, there's no need to decant, as the bottle itself will look effortlessly elegant on the table.
The curved lines represent the streams glistening through nature in Japan as they run through the four seasons, and the label design consists of Janpaku (pure white) washi paper, representing the beauty of Japanese white rice; this is complemented by Kanji calligraphy with sumi ink.
Zen simplicity in Japanese culture
The craftsmanship behind HakuVodka is a direct reflection of the Japanese appreciation for zen simplicity, the concept that less is more; the elimination of all that is unnecessary. The vodka is made from 100 per cent Japanese white rice,its purity enhanced by milling and polishing, while traditional bamboo filtration removes anything that might detract from the taste.
The process begins in Kagoshima, Kyushu, a region historically famous for its rice spirit-making, where white rice is fermented with koi rice to create a mash. This is then distilled twice through pot stills. The resulting liquid is then blended and filtered through bamboo charcoal in Osaka, Japan, preserving the rice's delicately sweet and subtle flavours.
The use of bamboo charcoal is an ancient method traditionally used to "sweeten" the water for tea. "Its incredibly porous nature gives it a superior filtering ability than other woods," explains Master Distiller Kazuyuki Torii. "Removing the impurities gives Haku Vodka its clean and clear flavour, while the minerals from the sustainable bamboo add a mellow character."
For more information, visit House.suntory.com
Share this: