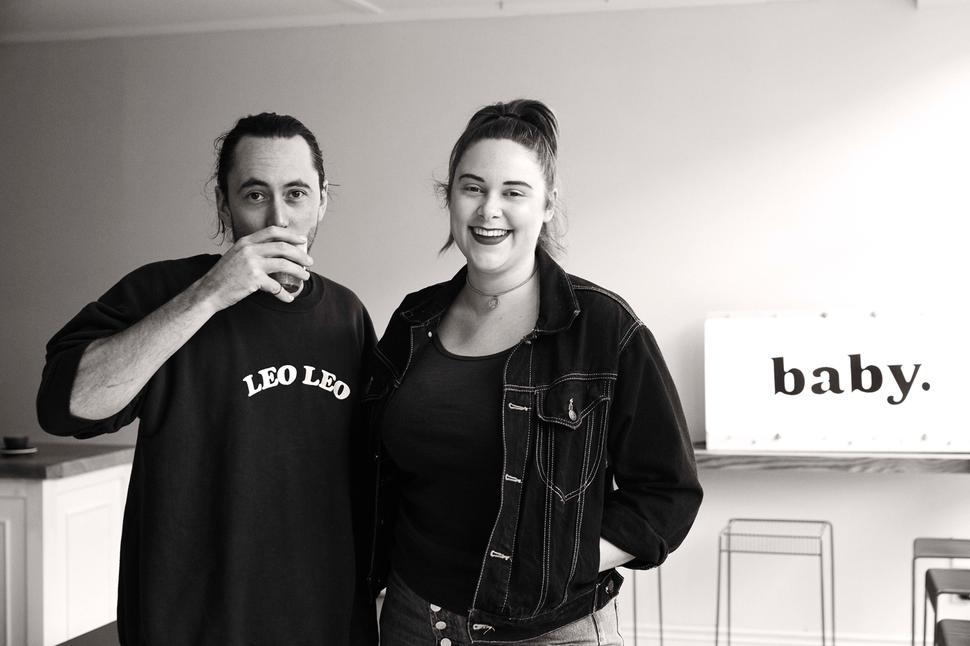 The Duo Behind Bestie Cafe Open Baby in Eden Terrace
This hidden gem will be creating delicious baking for its "cousin" Bestie Cafe
Monday May 28, 2018
The bakers at Bestie have spent a couple of years working in a tiny space, creating the Karangahape Road cafe's signature layer cakes, classic slices, cinnamon scrolls and vegan treats, but they now have a luxurious new kitchen to call home.
Owners Emma Lyell and Tane Williams describe their new outpost, Baby, as being like Bestie's cousin, which will have cabinet food, a small menu (including house-made muesli and comforting jaffles), and Eighthirty coffee, but the main focus will be on supplying Bestie's cabinets with baking.
READ: The Bestie Cafe Duo's Favourite Things
Open from today, Baby is located in the former home of Bluebells Cakery in Eden Terrace (which has shifted to Kingsland) and they've put their colourful, eclectic stamp on what was once a crisp, simple space.
"When we got the new space we were like 'oh my god, this is massive!'," says Emma.
"There's not a single bench in the new place that's as small as the bench we work on at Bestie."
Emma says the main thing she learned from the first venture was taking things slowly and adding in new challenges when they felt ready. "Now we do make everything ourselves, like all the pickles, and we've made our own cups and done cool fun collabs that we couldn't have done if we'd tried to do everything at once," she says.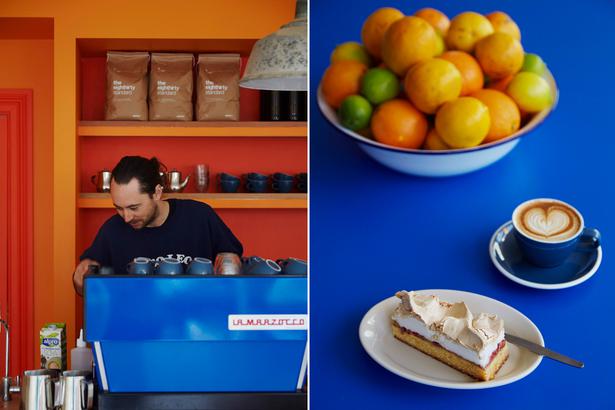 Although she's spent a long time working in hospo, Bestie was Emma's first management role and describes the experience as being "trial by fire".
Plus, when Tane and Emma opened Bestie, they were taking the space of long-standing cafe Alleluya, which some people were upset to see closing. People walked in and turned up their nose, assuming the cafe was owned by developers, rather than owner-operators taking a risk on their first business.
"This one is a pretty chill spot, there's not a lot of foot traffic, we can do what we like and no one minds," says Emma.
"Now I know how to hire staff, I know the food that I like and the style that we're best at, so it's definitely easier."
Her partner Tane looks after their cafes' design and she says it makes it easy that they're completely on the same page. "Any ideas we couldn't do [at Bestie] we're like 'Oh yeah let's do that!'."
They plan to split their time between the two cafes, with Baby open on weekdays until things settle down a little.
READ: Where To Find: Nostalgic Baking In Auckland 
The extra bakery means they'll be able to offer "more exciting" sweet baking, savoury options such as hot pies, while catering is on the cards in future. She says at the time, opening Bestie was a "dream come true".
"I don't know how we managed to pull it off," she says. "Now we're settled in here it's nice to have something else to mix up the routine."
Where: 67 France St South, Eden Terrace. Open: Monday to Friday 7.30am-2.30pm. Visit: Instagram.com/Baby_akl
Share this: