What to Buy: Thea Ceramics
Esther McDonald is making earthy ceramics from Waiheke Island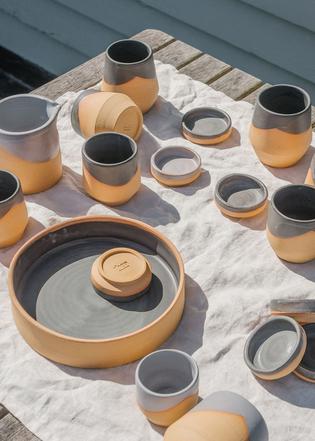 It's an unproven fact that healthy, home-cooked meals taste better from hand-fired, earthenware bowls. That's why we're loving Waiheke-based Thea Ceramics.
"I'm super into functional objects you'll want to use every day," says Thea founder Esther McDonald, whose earthy range includes coffee cups, dishes, plates, bowls and beakers. Esther layers the raw clay with a thick matte glaze, a rustic yet chic duality she likens to Waiheke itself.
"The island can be rough and ready and rugged, especially if you go to the beach on a stormy day. But it's also beautiful and sophisticated, with amazing food, wineries and architecture."
Following in the foosteps of her ceramicist grandmother and uncle, Esther got into pottery four years ago, making the transition from early childhood teacher after she had her son, Koa.
Among her stockists is sister Emily's cafe The Tannery in New Lynn, Waiheke's Island Coffee, where she works as a barista, and Coexist Gallery at Victoria Park Market — and, if the "crazy" response to a recent Instagram post she made is anything to go by, we'll be seeing her pieces further afield soon.
Throwing herself into the world of clay reminds Esther of the concept of lifelong learning, something she tried to instil in her students.
"I'm getting my hands dirty and constantly questioning how it's done. It's teaching me patience, problem solving, to go at full belt but also to be chill as well, because it's slow, and you have to trust that it will work out. I've had quite a few disasters in the process but I'm so proud I've stuck it out. It's wonderful to have a lifestyle I love, to make things with my hands, and to use them to feed my child. He has his breakfast out of my bowls."
Share this: