Three recipes to celebrate strawberry season
Jam with heart, delish tarts and a retro dressing . . . Angela Casley celebrates strawberry season.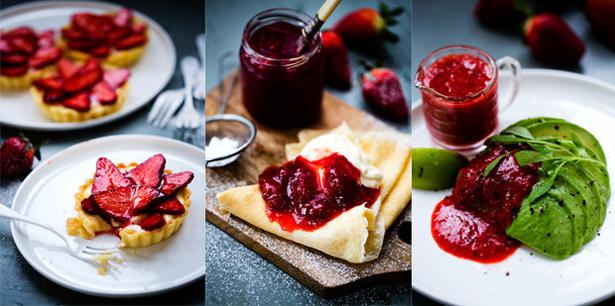 Tuesday Nov. 4, 2014
When strawberries are for sale at roadside stalls, you know it's time to buy in bulk and eat to your heart's content. A punnet of sweet and tasty strawberries for a morning snack is a bit of a ritual for me.
Strawberries always grace our Christmas table, but why not eat them in abundance now before the prices go mad?
I love to add a little lime zest to strawberry jam. Subtle and fresh, it's a favourite on freshly baked scones. Here, I have spooned it over thin crepes with a little creme fraiche, but it's just as delicious on toast and bagels. Or what about a Swiss roll?
You can make your jam now to give as a gift at Christmas - home-made is where the heart is. If you can't find jam-setting sugar, normal sugar is fine - your jam will just need to cook a little longer. Always test a little on a saucer to ensure you get that perfect consistency.
There are hundreds of strawberry tart recipes. These tarts are summery and perfect for a picnic or a delicious dessert. Custard is very versatile; you can keep it in the fridge as a standby then, when ready, throw it into a pastry case, top with your strawberries and enjoy. You can make one big tart or individual tartlets.
To use custard in other ways, try folding through some whipped cream, or add 70g melted chocolate for a delectable treat. For a coffee custard, add a teaspoon of strong coffee to the milk when heating.
This avocado with strawberry vinaigrette is an old favourite from the 1980s. I happened to have both fruits on the bench the other day, so I thought, why not?
The recipe is incredibly easy - it makes a perfect light starter, and can be mixed and matched with other flavours. One of my favourite alternatives is a bit of crumbled gorgonzola and pine nuts, or try crab meat and chervil leaves.

Recipes:
Share this:
More Food & Drink / Recipes