Three recipes to feed your senses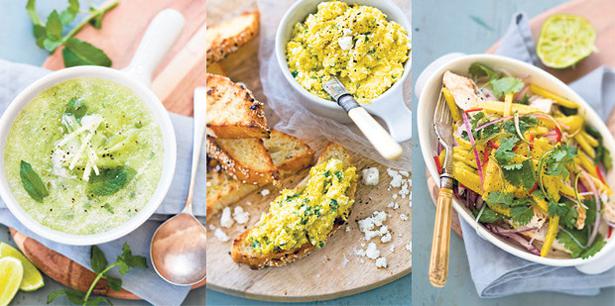 Friday Feb. 6, 2015
In my book there's nothing better to add to your sense of wellbeing than eating flavoursome food. It's about feeding your senses - from the visual goodness of a colourful, beautifully presented dish to the enjoyment of great taste and texture and, finally, the sense of pleasure from sharing it with friends and family.
Add in the wonderful warm weather we've been having and the chance to eat leisurely meals al fresco, and we should we all be purring with delight.
We have been eating a lot of the chicken and mango salad this summer. It quick and simple to prepare. Barbecue the chicken over coals if you can, the flavour is so much better. The mango brings a silky smooth texture while adding plenty of herbs and a delicious dressing creates a fabulous zingy freshness.
If you feel you've had too much summer corn straight from the cob (never the case for me), try this scrummy sweetcorn and goat's cheese dip - a great use of in-season corn.
To remove the husks, simply stand the blanched cob on its end and run a small sharp knife down the side to lift off the kernels. Again, add fresh summer herbs to this recipe, but be careful not to overpower the subtle flavour of the cheese. Try this in a toasted sandwich, on crostini or use as a substitute for guacamole.
The honeydew soup is definitely a summer-time favourite. We used to have it years ago, made of honeydew melons grown by a local farmer. Mum would buy them for 20c each! Here, I have added some extra summer flavour with ginger, mint and coconut water.
Scoop out the seeds and fill melons with vanilla icecream for an instant dessert or cut into pieces and pack into the chilly bin for picnics. It's delicious on a scorching hot day.

Recipes:
• Sweet corn and goat's cheese dip
Share this:
More Food & Drink / Recipes