Throw A Party With These Easy Cocktails
Get the night started with these simple drinks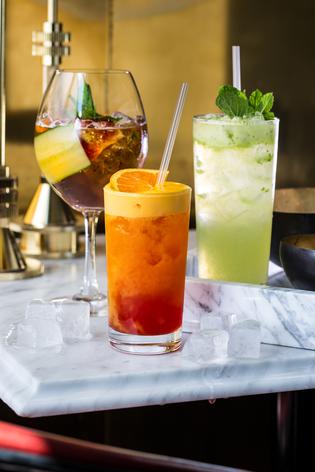 If you want a ticket to one of the most exclusive venues in town, you need to belong to The Seafarers Members Club — with its rooftop bar and discreet members' lounge. Now celebrating its second birthday, it is the place for cool invitation-only events, networking and meetings. It is also your ticket to access a series of similarly stylish clubs around the world — think London, New York, Los Angeles, Hong Kong, Shanghai, Toronto, Madrid, Budapest, Munich, Singapore, Rio De Janeiro, Buenos Aires, Sydney, Melbourne and Austria. Definitely worth the investment.
Of course, not everyone can join, so to give you a taste of what this exclusive world is like, the Seafarers' bar team rattled up their three favourite cocktails for spring. What better way to get a party started than some stylishly good cocktails? For more details, visit Seafarers.co.nz

Garibaldi
To make this traditional italian aperitivo cocktail, take 30ml of Campari and top with freshly juiced oranges. Add an orange slice to garnish.
Seafarers' Pimms Cup
You can't beat a Pimms on a hot afternoon. Combine: 45ml Pimms, 15ml rum and 15ml lemon juice with a dash of East Imperial ginger ale and lemonade, and garnish with as much fruit as you can find.
Garden Grove No 5
Perfect to keep the party buzzing, take 45ml Zubrowka vodka, 15ml Manzana Verde and 20ml lime juice, and top with freshly juiced granny smith apple.


Share this:
More Food & Drink / Wine & Drink