Throwback Thursday: A Look at Retro Recipes
What was trendy last century?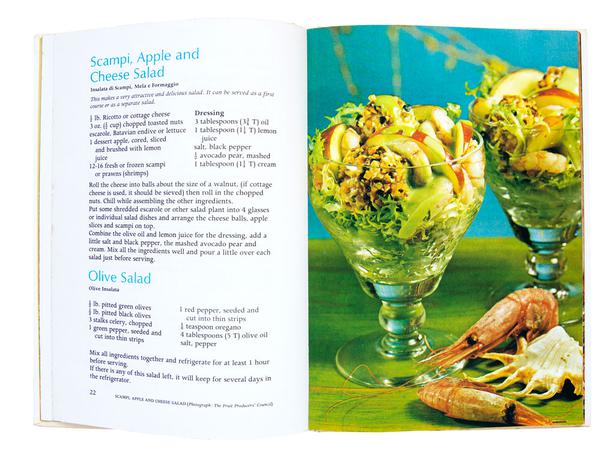 Thursday March 19, 2015
What is it about food trends that makes them so unrecyclable? Fashion tends to be cyclical, taking inspiration from the 50s,70s, 90s and back again. Yet food trends, apart from long-standing classics and a few novelty throwbacks, tend to stay in the past.
As a fan of old recipe books — more for laughs than meal inspiration — I was curious to see why they dated so quickly, and how these recipes managed to look so unappetising. Moreover, I wanted to find out what exactly were the trends before nose-to-tail eating, Southern barbecue and raw cheesecakes?
I buried myself in my mother's trusty cookbook library, which has a particular emphasis on the 70s (when she was a newlywed and clearly in need of gifts to help her feed her new husband).
The 70s showed a fondness for congealment, over-saucing, and artistic adornment (often involving cheese, fruit and vegetable slices). A particularly favoured presentation technique involved hollowing out a pineapple or watermelon and filling it with one of the above-mentioned over-sauced concoctions. Pineapple rings and olive slices placed neatly around the edge of platters or stuffed into the middle of casseroles were effective too. Stuffing, rolling and making mousses or loaves also proved popular.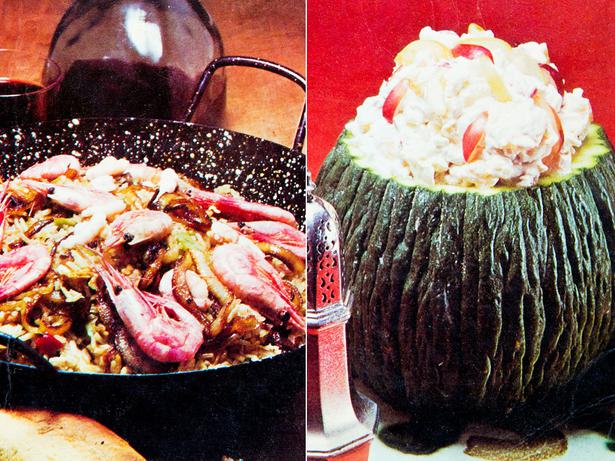 The 80s brought microwave cookery, decadent seafood creations, fussy canapes and a fascination with iceberg lettuce. And more loaves.
The yellow effect on the photographs in these books, making the dishes look fake and fatty, is not the good kind of filter. It's the result of shooting the food under interior lights without a flash, says Viva photographer Babiche Martens.
Mum's bookmarks and notes do alert me to the fact that at least some of the recipes in these books are more useful than laughable. Her pavlova, best chocolate cake and staple eclair recipe, all from a back catalogue of Australian Women's Weekly cookbooks, could hardly be improved upon. And the Edmonds Cookery Book is still the go-to for scones, bread, pies and crumbles.
There is a market for vintage cookbooks — in New York, Bonnie Slotnick has been selling them through her dedicated vintage cookbook store, Bonnie Slotnick Cookbooks, for 17 years, and has even recently moved to a larger space. Online stores Vintage Cookbook and Cookbook Village cater to collectors and chefs, and with the resurgence in preserving, pickling, smoking and charcuterie, they are proving quite popular.
Some people have even recreated these recipes as a kind of social experiment. BBC's new television show Back in Time for Dinner sees the Robshaw family eating through the decades, from the 50s to the 90s, while Ruth Clark of the Mid-Century Menu trials, and eats, a different 50s dish for dinner each week with her husband.
That's a whole lot of jelly and spam.
Do I think we will look back on this year's wholesome cookbooks, foraging guides and meat-heavy tomes in a few years and laugh? I'd almost guarantee it.
Share this: