Tips and tricks for the perfect green smoothie
Each Thursday Eleanor Ozich of Petite Kitchen will share her thoughts on healthy eating, with recipes and more.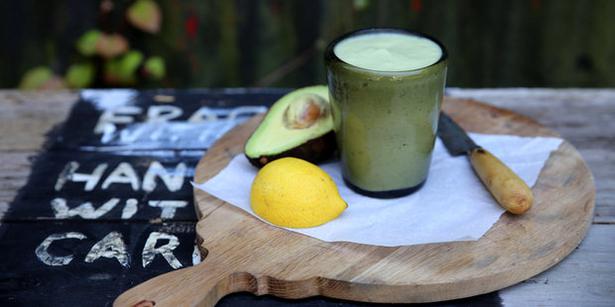 Thursday March 6, 2014
Feeling a little overwhelmed or unsure of where to start? Not to worry, as I have some simple tips for creating a brilliantly creamy and refreshing green smoothie, perfect for when you feel like a little boost of nourishment.
I like to keep my smoothies basic and uncomplicated. In the smoothie pictured, I have put half an avocado, a small frozen banana, 1 cup of coconut water, a large handful of cos lettuce, the juice of half a lemon and a small handful of fresh green grapes in a blender, then simply whizzed until smooth.
Four simple steps to creating your own delicious green smoothie:
1. Choose a liquid base. I use about 1 cup of liquid, but you can add a little more or less depending on the thickness desired. I like to use coconut water, but all types of nut milk, rice milk or oat milk work fantastically.
2. Next, I like to add something a little creamy as a good dose of healthy fats. I usually add an avocado, or cup coconut cream. A handful of activated nuts or nut butter adds a terrific dimension also.
3. Time to choose a handful of fruit! I usually opt for a frozen banana, as I always have an abundance in the freezer. I also love a little mango or pineapple if I am wanting something tropical. Frozen grapes, apples, figs and berries are 
perfectly sweet additions.
4. Last, but not least, add a large handful or portion of greens. Some great options are kale, spinach, cos lettuce, celery, broccoli, a bulb of fennel or half a cucumber.
Once you have mastered the art of creating a delicious green smoothie combination, you can get a little fancy.
A few tips to help you take your smoothie to the next dimension:
1. Add the juice of half a lemon or lime for a fresh zing. Herbs also make nice additions, for example, a small handful of mint or parsley works well.
2. Spices make excellent additions, as well as adding extra health benefits. Turmeric, a little pinch of cayenne pepper or ginger, all work well.
3. I like to freeze my fruit or vegetables to produce a chilled, refreshing smoothie. If using fresh, add a couple of ice cubes, instead.
Share this:
More Food & Drink / Recipes