Four Ways to Top Toast Anytime
Elevate your toast toppings with these gourmet suggestions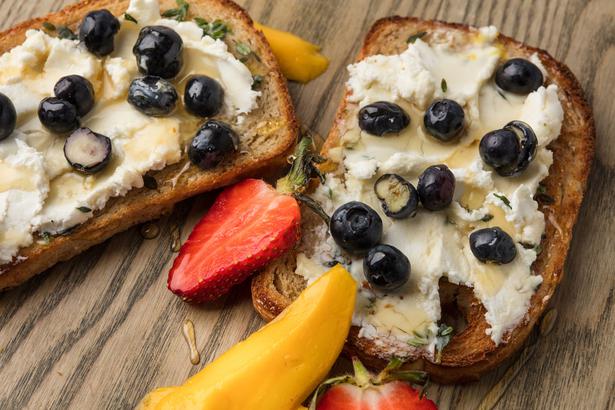 Friday June 23, 2017
We're getting better and better at putting Things on Toast, a culinary category that's hard to beat for its versatility. Some spreads applied thinly can boost flavour while creating a protective layer between crisp surface and squishy toppings. Good loaves of unsliced bread allow us to control the degree of thickness that's desired/required. And when we're eating and running, we pack the toast and its adornments separately to ensure a satisfactory portion.
Here are four ways to go - savory, sweet and somewhere in between.
BLUEBERRY AND GOAT'S CHEESE TOAST WITH LEMON THYME BUTTER
2 servings
Ingredients
1½ tsp fresh lemon thyme leaves, minced (from 4 sprigs)
1 Tbsp unsalted butter, at room temperature
Pinch sea salt
2 thin slices multigrain bread, toasted and warm 
½ cup soft goat's cheese
½ cup fresh blueberries, some cut in half (stemmed and rinsed)
1 Tbsphoney
Method
1. Use a fork to whisk together the lemon thyme leaves, butter and salt in a small bowl, until well incorporated. Spread the mixture on one side of each piece of warm toast.
2. Once the butter has melted a bit, gently spread the goat's cheese on each buttered slice of toast. Scatter the blueberries on each portion, then drizzle each one with the honey. Serve right away.
• Adapted from Melts: Over 50 Delicious Toasted and Grilled Sandwich Recipes by Fern Green (Hardie Grant, 2017).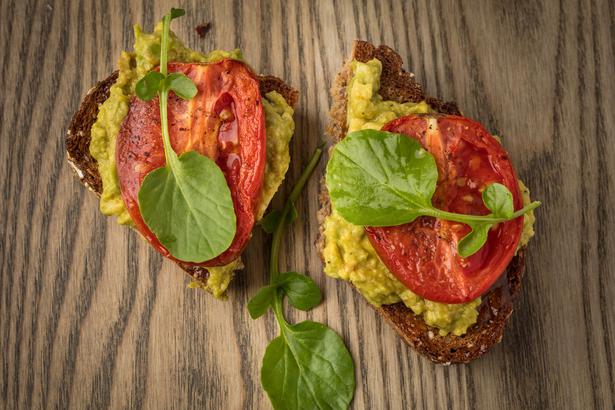 Roasted tomatoes and avocado on toast. Picture / Goran Kosanovic for The Washington Post
ROASTED TOMATOES AND AVOCADO ON TOAST
2 to 3 servings
Ingredients
2 or 3 juicy Roma tomatoes, cut in half lengthwise
Olive oil
Kosher salt
Freshly ground black pepper
Flesh of 1 ripe avocado (on the small side)
2 Tbsp fresh lime juice
Pinch sweet Spanish smoked paprika (pimenton) or Aleppo pepper
2 or 3 Tbsp tomato jam (may substitute no-sugar apricot preserves)
2 slices sturdy thick multigrain or rye bread, toasted
Watercress or pea shoots, for garnish
METHOD
1. Preheat the oven to 220C. Line a small baking pan with aluminum foil.
2. Arrange the tomatoes, cut sides up, on the baking pan. Drizzle with the oil and season lightly with salt and pepper. Roast for 25 to 30 minutes, or until softened and a bit toasted at the edges.
3. Meanwhile, combine the avocado, lime juice, smoked paprika or Aleppo pepper and a small pinch of salt in a medium bowl; use a fork to mash into a coarse consistency.
4. Spread the tomato jam (1 Tbsp per slice) on the toasted bread slices, then the avocado mixture. Top with the roasted tomato halves (2 halves per) and the greens.
5. You may wish to cut the slices in half, for ease of eating. Serve right away.
• Adapted from a recipe at Olivemagazine.com.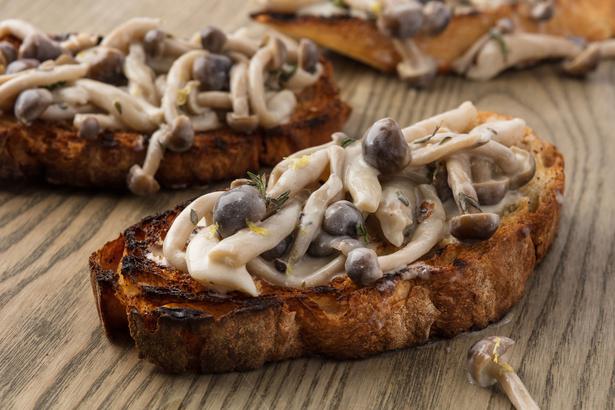 Mushroom toast. Picture / Goran Kosanovic for The Washington Post
MUSHROOM TOAST
2 to 4 servings
Ingredients
3 Tbsp olive oil
2 large thick slices sourdough bread 
2 cloves garlic, each cut in half
1 Tbsp salted butter
170g mushrooms, separated into pieces (the recipe specified beech mushrooms, you could try oyster or shiitake as an alternative)
Leaves from 2 or 3 sprigs thyme, chopped
¼ cup sancerre (wine)
½ to ¾ cup heavy cream
2 Tbsp creme fraiche
Sea salt
Freshly ground black pepper
½ to 1 tsp finely grated lemon zest
Method
1. Heat a grill pan over high heat.
2. Use 2 Tbsp of the oil to brush both sides of each slice of bread, then place it in the pan; toast on both sides until golden. Transfer to a plate and immediately rub with the cut sides of half the garlic.
3. Heat the butter and the remaining tablespoon of oil in a medium skillet over medium heat. Add the remaining garlic, the mushrooms and most of the thyme leaves; cook for about 5 minutes, stirring a few times.
4. Stir in the sancerre; cook for about 3 minutes, or until the liquid has reduced. Stir in the cream (to taste) and cook for about 3 minutes, stirring, then remove from the heat.
5. Stir in the creme fraiche, then season lightly with salt and pepper.
6. Place a piece of toast on each plate. Divide the mushroom mixture between them, spooning it atop the toast. Sprinkle with the lemon zest (to taste), the remaining thyme leaves and a little salt. (Cut each slice crosswise in half, for 4 servings.) Serve right away.
• Adapted from Simple Fare Spring/Summer: A Guide to Everyday Cooking and Eating by Karen Mordechai (Abrams, 2017).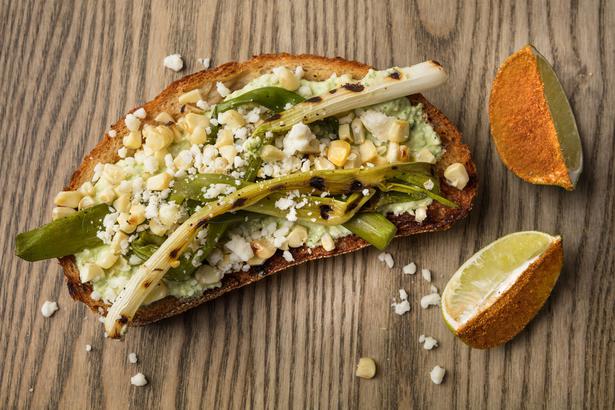 Grilled corn and spring onion toast with coriander crema. Picture / Goran Kosanovic for The Washington Post
GRILLED CORN AND SPRING ONION TOAST WITH CORIANDER CREMA
4 servings
Ingredients
For the topping: ½ cup sour cream
¼ packed cup coriander leaves
¼ cup crumbled cotija cheese (if you can't find it, swap in ricotta salata or feta)
½ jalapeno pepper, seeded and coarsely chopped
Juice of 1 lime
1½ tsp kosher salt
4 tsp extra-virgin olive oil
8 spring onions, root ends trimmed
2 ears fresh corn, shucked
For the toast: 3 Tbsp extra virgin olive oil
Four ¾-inch thick slices country-style bread
Kosher salt
For serving: ½ cup crumbled cotija cheese 
1 tsp ground cayenne pepper
1 lime, cut into quarters
Method
1. For the topping: Combine the sour cream, coriander, cotija cheese, jalapeno, lime juice and 1 tsp of the salt in a food processor; pulse to form a fairly smooth puree. Transfer to a bowl, cover with plastic wrap and refrigerate until ready to use (up to a day or two).
2. Heat a grill pan over high heat.
3. Drizzle 2 tsp of the oil over the spring onions and sprinkle with ¼ tsp of salt; grill on both sides until charred and soft, for 4 to 5 minutes. Transfer to a plate.
4. Brush the remaining 2 tsp of oil over the corn and season with the remaining ¼ tsp of salt; grill on all sides until the kernels are golden brown and slightly charred; this should take 6 to 8 minutes total. Once the corn is cool enough to handle, slice the kernels off the cob.or the toast: Use the 3 Tbsp of oil to drizzle one side of each bread slice. Season each slice with a pinch of salt. Grill the bread on both sides until toasted and grill marked, for 2 to 4 minutes total.
5. When ready to serve, top each toast with some crema, then divide the grilled corn among each portion. Lay 2 grilled scallions over each piece of toast, then sprinkle with the cotija cheese.
6. Sprinkle the cayenne pepper on a small plate; dip one side of each lime wedge in it, to coat. Serve the lime on the side, letting people squeeze it over the toast before eating.
 - The Washington Post
Share this: