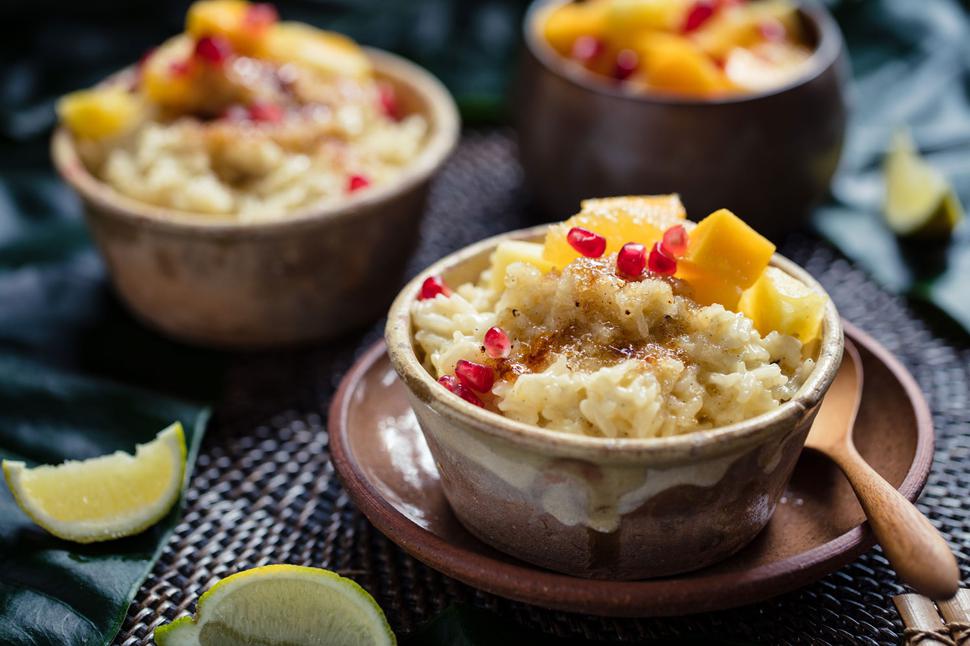 Toffee-Topped Rice Pudding With Pineapple & Orange
This comforting tropical pud will transport you to warmer shores
Thursday June 21, 2018
This delicious, warm rice pudding recipe is pure satisfaction for those with a sweet tooth. I love tapping through the crunchy demerara sugar topping. It's great served with colourful fruit. This recipe makes four but if there are two of you, eat it cold later, it's just as tasty. Now simply close your eyes and envisage you are in sunshiny paradise.
TOFFEE-TOPPED RICE PUDDING RECIPE
Serves 4
2 cups milk
1 ½ cups coconut milk
½ tsp salt
1 vanilla bean, split lengthways and seeds scraped
½ tsp cinnamon
1¼ cups jasmine rice
½ cup caster sugar
2 tsp lime zest
1 cup lightly whipped cream
¼ cup demerara sugar
2 cups of chopped pineapple, orange and pomegranate mixed, to serve
1. Place the milk, coconut milk, salt, vanilla bean and seeds and cinnamon into a pot, bringing to a boil.
2. Turn the element to low, pour in the rice and stir to prevent it sticking. Cook uncovered for 25 minutes or until the rice is completely soft. Remove from the heat and stir through the caster sugar and lime. Remove the vanilla bean and allow the rice to cool for 15 minutes.
3. Fold through the whipped cream gently. Spoon the rice into individual dishes. Sprinkle each with demerara sugar. Using a blowtorch (for a better result) caramelise the sugar or place under a hot grill, keeping an eye on it so it doesn't burn.
4. Serve with colourful chopped fruit.
Share this:
More Food & Drink / Recipes