Tofu and Pumpkin Curry Recipe
This tofu and pumpkin curry is the perfect winter warmer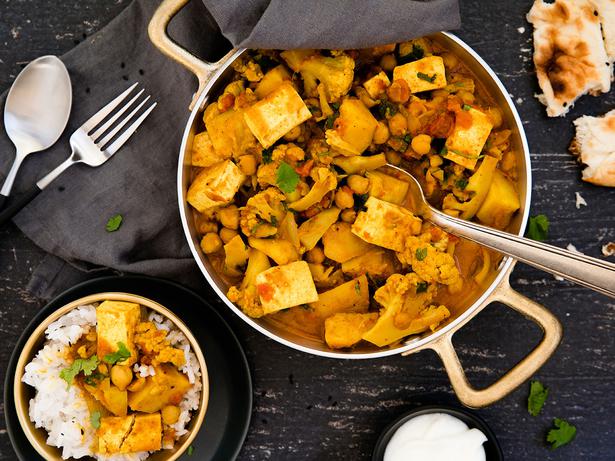 Friday June 3, 2016
For the pumpkin and tofu curry, toss all the ingredients into the pot and leave to cook. It is the ultimate comfort dish for vegetarians. The slow-cooked vegetables and pulses combine with creamy coconut for a gentle flavour, while the tofu becomes soft and tender. It's perfect any day of the week, served with nutty brown rice. (I allow one cup of cooked rice per person.)
TOFU AND PUMPKIN CURRY
Serves 4
1 onion, chopped
2 cloves garlic, chopped
1 Tbsp grated fresh ginger
1 Tbsp curry powder
2 kumara, peeled and cubed
2 cups pumpkin, peeled and cubed
2 cups cauliflower florets
400g tin chopped tomatoes
420g tin chickpeas, drained
400ml coconut milk
½ tsp salt and freshly ground pepper
1 Tbsp oil
300g firm tofu, cut into cubes
½ cup chopped coriander
Serve with rice
1. Preheat an oven to 160C.
2. Place the onion, garlic, ginger, curry, kumara, pumpkin, cauliflower, tomatoes, chickpeas, coconut milk, salt and pepper in a casserole dish. Bake for 1¼ hours until the vegetables are soft and sauce is a little thickened.
3. Heat the oil in a frying pan. Brown the tofu on all sides, then stir through the casserole. Return to the oven for 20 minutes.
4. Garnish with chopped coriander and serve with brown or white rice.
Share this:
More Food & Drink / Recipes