Tok Tok Wins 'Best in Taste' at Taste of Auckland
Takapuna's Tok Tok takes out the top award at this year's Taste of Auckland festival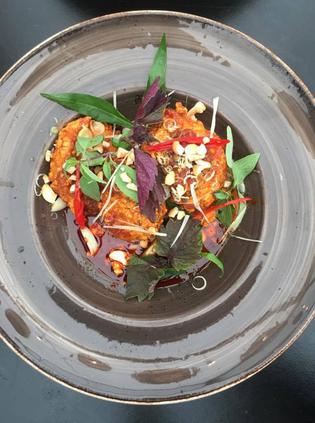 If you're heading down to Taste of Auckland today or over the weekend, here are the three dishes you most definitely want on your dining list: Hapuka Red Curry from Tok Tok, Morton Bay Bug Lobster Surprise from Farina and Clams 'Escargot' from Paris Butter.
These three dishes took out the top prizes respectively at last night's Best in Taste award, which saw each official Taste restaurant enter a bespoke dish for consideration by judges Viva managing editor Amanda Linnell, top Kiwi chef Michael Meredith and Australian patissier Adriano Zumbo.
The winning criteria required the dish to ''live up to the values and experience offered at the actual restaurant'', and for it to showcase ''interesting and innovative presentation and flavours''.
This year marked the festival debut for Takapuna eatery Tok Tok, whose winning dish was described by Adriano as "a beautiful combination of flavours''.
READ Restaurant Review: Tok Tok, Takapuna
"The Hapuka Red Curry was wonderfully cooked and presented. They served up a tasty piece of fish fried that was still moist inside, covered in spicy chilli sauce with fragrant fresh herbs and spices. It was also good value for money [$12] with a nice big portion — perfect for a festival like Taste," he said.
Farina's Italian-inspired lobster dish was cooked in its pizza oven on-site at Taste, which impressed Michael Meredith.
"The lobster was cooked beautifully; it was nice and succulent. All the flavours married well, light and fresh. It was a great interaction dish, there was an element of tradition with the spaghetti and at the same time you're using chopsticks to serve. As well as delicious, it was beautifully presented too with layers so you can see all the different elements of the dish."
READ Restaurant Review: Farina, Ponsonby
And the simplicity of Nick Honeyman's clams from Paris Butter won the judges over, Amanda said.
"Paris Butter's unique take on escargot using clams was a really nice play on a traditional dish and the garlic butter was superb. The clams, which were wonderfully tender and sweet, were flown up from the South Island, which is pretty special too. It's a straightforward dish but executed beautifully."
READ Restaurant Review: Paris Butter, Herne Bay
Taste of Auckland in partnership with Electrolux is on until Sunday. Other top Auckland restaurants involved include Miss Clawdy, Artwok, The Culpepper, Fish, Euro, Al Brown's Eatery and Ima Cuisine. There are also live cooking demonstrations, one-on-one chef experiences and stands featuring 100 fine food producers, wine makers, distilleries and craft brewers. Got to tasteofauckland,co.nz for tickets.
Share this:

More Food & Drink / The Latest