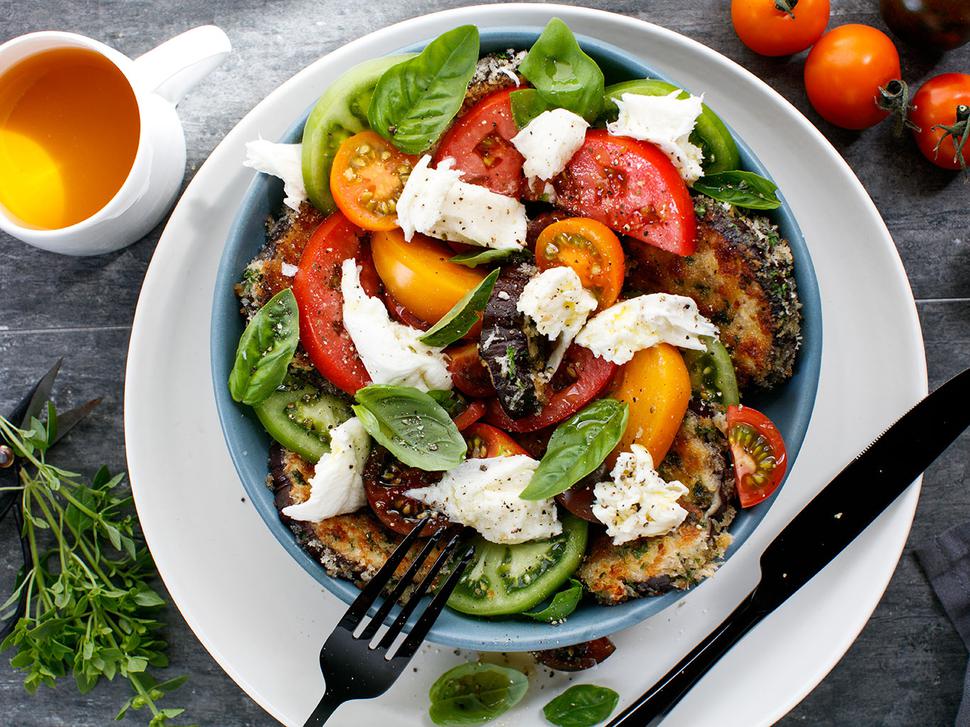 Tomato and Mozzarella Salad Recipe with Crumbed Eggplant
Try this delicious tomato and mozzarella salad recipe by Angela Casley
Tuesday Jan. 26, 2016
At this time of year, we simply can't go past the beautiful array of fragrant and flavoursome tomatoes in gardens and markets. They are simply magnificent, in all shapes, sizes and colours. In my garden, the eggplants haven't been so abundant. I only had one, so here it is — coated with egg and breadcrumbs, then fried with a crispy coating. This is perfect combined with tomatoes, soft white mozzarella and basil. The weeds can wait!

TOMATO AND MOZZARELLA SALAD RECIPE WITH CRUMBED EGGPLANT
Serves 4-6
• 1 eggplant, sliced into 1cm rounds
• 2 eggs, lightly whisked and seasoned
• 1 cup bread crumbs
• ¼ cup chopped herbs eg parsley or chives
• Oil for cooking
• 2 cups tomatoes, sliced or chopped
• 2 balls mozzarella
• 1 cup basil leaves
• Salt and freshly ground pepper
• lemon olive oil
1. Firstly crumb the eggplant. Dip into seasoned egg, then roll into the breadcrumbs and parsley combined in another bowl. Set aside in the fridge until ready to cook.
2. Into a frying pan pour a little oil. Fry the eggplant on a medium heat to ensure they cook right through, turning once to brown both sides.
3. Onto a platter place the eggplant, tomatoes, torn mozzarella, salt and pepper. Drizzle over the lemon infused olive oil then serve.
Share this:
More Food & Drink / Recipes