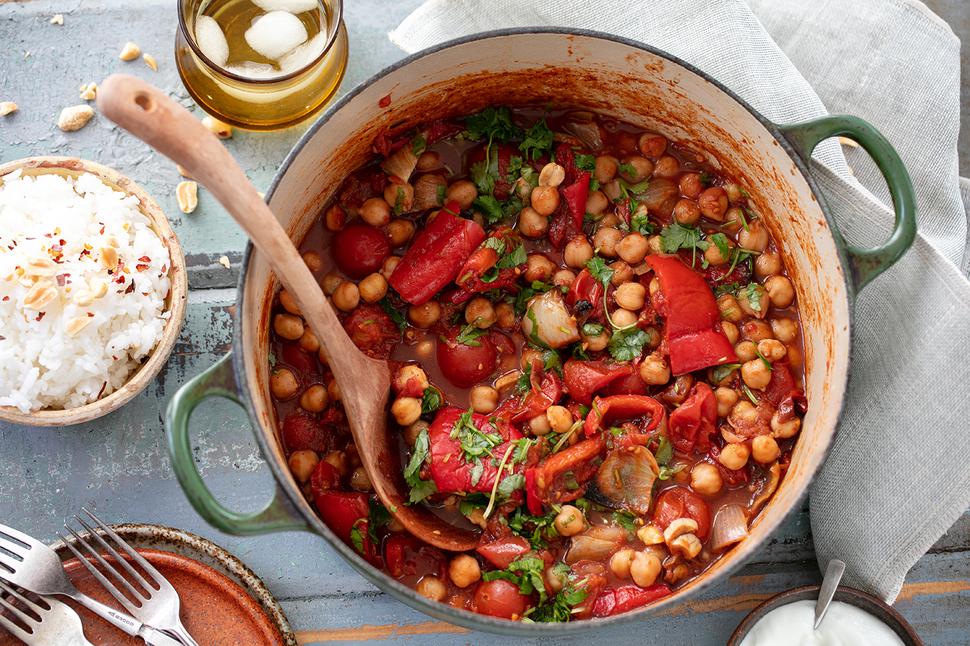 Tomato, Roasted Pepper & Chickpea Stew
A myriad of spices make this vegetarian dish a rich experience that only gets better with time
Sunday June 20, 2021
Any tomatoes will work here. If you have a few lurking around that have softened slightly and were destined for the bin, even better. This dish is delicious the next day, as the flavours develop and get better over time. Scoop up every bit of juice with some crusty bread on the side.
TOMATO, ROASTED PEPPER AND CHICKPEA STEW RECIPE
Serves 4
500g tomatoes, roughly chopped
1 red pepper, roughly chopped
4 cloves garlic, crushed
¼ cup olive oil
2 Tbsp red wine vinegar
2 Tbsp grated fresh ginger
1 tsp cumin seeds
1 tsp ground coriander
1 tsp paprika
1 cup passata
2 tins chickpeas, drained
1 tsp date syrup or brown sugar
1 cup coriander, plus extra to serve
Crusty bread, to serve
1. Preheat an oven to 180C.
2. Place the tomatoes, pepper, garlic, oil, red wine, ginger, cumin, ground coriander, paprika and passata in a roasting dish, tossing it all together. Place into the oven for 50 minutes or until the vegetables are soft. Add the chickpeas, date syrup or brown sugar and half the fresh coriander and return to the oven for 10 minutes.
3. Serve hot with extra coriander and some crusty bread.
Share this: