Roast Tomato Soup Recipe
Add a hint of coconut milk and chilli to this tomato soup recipe for a twist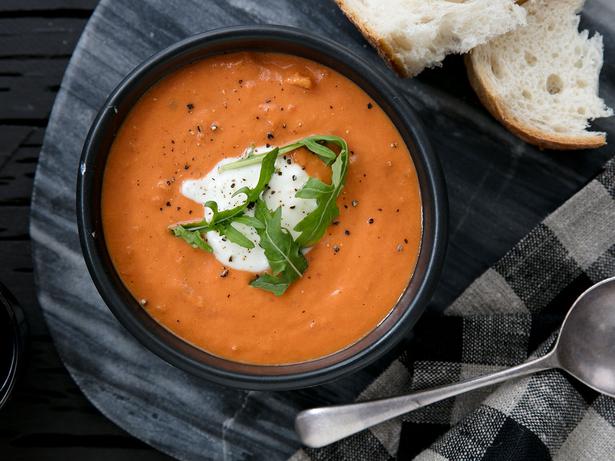 Friday May 12, 2017
A bowl full of tomatoes that needed to be used up was roasted and turned into a delicious soup. Warming on a winter's day, this is equally good when the weather is warmer, chilled with a block of ice. Roasting the tomatoes brings out their sweetness along, while a hint of coconut milk and chilli adds an extra twist.
ROAST TOMATO SOUP RECIPE
Serves 4-6
1 kg tomatoes, chopped roughly
2 red onions, chopped roughly
3 cloves garlic, chopped
2 Tbsp olive oil
1 Tbsp grated ginger
1 red chilli, chopped finely
400g tin chopped tomatoes
400g tin coconut milk
2 tsp brown sugar
1 cup chicken stock
Salt and freshly ground pepper
½ cup rocket leaves to garnish
½ cup Greek yoghurt
1. Preheat an oven to 170C.
2. On to a baking tray place the tomatoes, onion, garlic and 1 tablespoon of oil, tossing to combine. Place into the oven for 40 minutes until completely softened.
3. In a large pot heat the remaining oil. Add the ginger and chilli, cooking for 2 minutes. Add the roasted tomatoes and onions, tinned tomatoes, coconut milk, sugar and stock. Bring to a simmer for 20 minutes. Season with salt and pepper. Allow to cool slightly before blitzing until smooth.
4. Reheat the soup, check for seasoning then serve with a few rocket leaves, yoghurt, extra pepper and warm bread on the side.
Share this: