Upside-down Tomato Tart Recipe
This vegetarian tomato tart is oh-so pretty and perfect for a picnic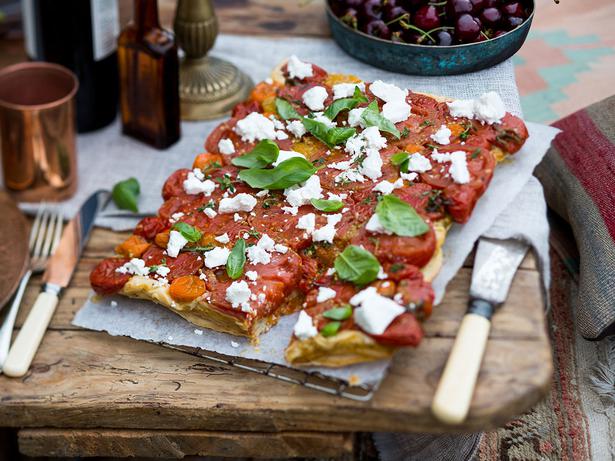 Friday Dec. 9, 2016
This tomato tart is oh-so pretty and perfect for a picnic. And it's always great to have a vegetarian offering. I love to throw in lots of basil leaves at this time of the year when they are big and luscious in the garden. Ready-made puff pastry is a no brainer. It can be thawed and rolled in no time at all. Try to get tomatoes from a roadside stall or, even better, homegrown. The flavour will be sublime. Keep the wine flowing and have lots of fresh bread on hand as well.
UPSIDE-DOWN TOMATO TART
Serves 8
20g butter
1 kg mixed tomatoes, large, cherry, or vine
1 tsp brown sugar
1 Tbsp balsamic vinegar
Salt and freshly ground pepper
400g puff pastry
½ cup pesto or tapenade
100g goats cheese, crumbled
Basil and thyme leaves to garnish
1. Preheat an oven to 200C.
2. Slice any large tomatoes in half.
3. Into a large frying pan melt the butter. Place the large tomatoes in first and cook for a few minutes then add any small ones and cherry tomatoes. Sprinkle over the sugar and balsamic. Cook them all for 10 minutes on a low heat until they have softened but still retain their shape.
4. Into a 20 x 30cm tin place the tomatoes, cut sides down. Fill the tin tightly then season with salt and pepper.
5. On a lightly floured board roll the pastry to fit the tin with a little overhang.
6. Spread the pesto or tapenade over the pastry. Place it carefully over the tomatoes, pesto down, tuck in any edges.
7. Place into the oven for 20 minutes until the pastry if puffed and golden. Remove and let it sit for at least 15 minutes or longer. If there is excess juice drain it from a corner.
8. Tip the tart carefully on to a platter or large board. Sprinkle with goat's cheese and basil leaves.
Share this:
More Food & Drink / Recipes