Tony Tan's Scallop & Chive Dumplings
Tony Tan shares these delectable dumplings from the dim sum chef at One Harbour Road, Hong Kong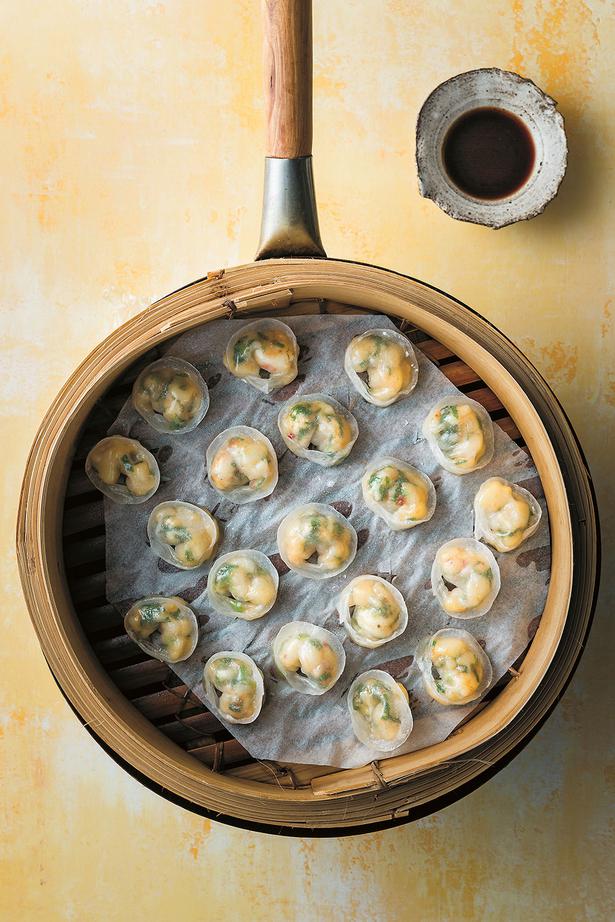 Sunday May 12, 2019
These delectable dumplings come from Li Shu Tim, the dim sum chef at One Harbour Road. The filling includes doubanjiang, the spicy chilli sauce from Sichuan province, but only a touch — Cantonese diners don't like their food too hot. The pastry is fascinating. Made with wheat starch and tapioca flour, it's a bit involved, but once you've made it the first time it becomes much easier. Part of the dough mixture is made with boiling water, which in some ways is similar to the hot-water pastry used for British meat pies. This recipe makes more pastry than you need, but it will keep in the fridge, wrapped in plastic. If you don't feel like making the pastry, just buy gow gee dumpling skins from your Asian grocer.
SCALLOP & CHIVE DUMPLINGS RECIPE
Makes 20
Filling
120g garlic chives
1 tsp tapioca flour
70g uncooked prawn meat
220g scallops without roe, diced
1 tsp vegetable oil
2 tsp caster (superfine) sugar
2 tsp doubanjiang
Pastry A
210g tapioca flour
70g wheat starch
Pastry B
210g wheat starch
70g tapioca flour
1. To make the filling, put 500ml (2 cups) water in a small saucepan and bring to the boil. Add the chives for 20 seconds, then drain and refresh in iced water. Pat dry and chop into 1cm (½ inch) lengths. Add ½ teaspoon tapioca flour and a pinch of salt to the prawn meat and stir in one direction for 2 minutes. Refrigerate for 10-15 minutes (this is a Chinese technique to make the prawns crunchy). Rinse the prawns under cold water to remove the starch. Pat dry with paper towel and chop into a small dice similar in size to the scallops.

2. Put the prawns, scallops, vegetable oil, sugar, doubanjiang, chives and remaining tapioca flour in a bowl. Season with 1 teaspoon salt and white pepper and mix well. Refrigerate until needed.

3. For the pastry, mix the tapioca flour and wheat starch from pastry A in an electric mixer, add 500ml (2 cups) boiling water and mix quickly.
Once formed into a dough, mix in the wheat starch and tapioca flour from pastry B, turn out on to a clean work surface and knead for 3-5 minutes until combined.

4. Form the dough into a long roll and cut into equal portions of around 20g. Roll each out to a disc of 8 -10 cm diameter. Place a teaspoonful of filling in the centre of each, then fold and pinch the edges together to form a dumpling. Steam the dumplings for 6 minutes and serve with your choice of dipping sauce.

• Hong Kong Food City by Tony Tan, published by Murdoch Books, distributed by Allen & Unwin, $55. See Tony Tan on the panel of Entree at the Auckland Writers Festival, 11.30am, Fri May 17, Aotea Centre. To book, visit Writersfestival.co.nz
Share this:
More Food & Drink / Recipes